Hong Kong's Cathay Pacific Group expects to report a net profit of up to HK$4.5 billion ($576 million) for the six months ended 30 June, on the back of strong demand following the easing of pandemic travel restrictions.
In a filing on 14 July, the group says the "significant improvement" in earnings follows "the removal of quarantine requirements in late-September 2022 and the progressive increase in the group's capacity since that time". Its earnings were also buoyed by a one-off gain following a stake sale in Air China.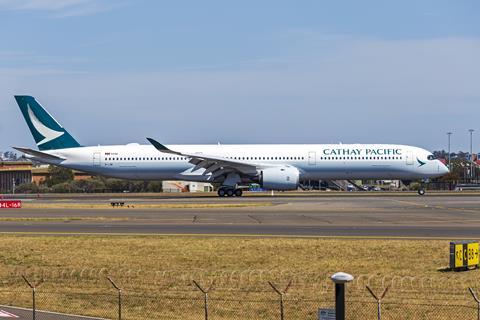 It would be the airline group's first half-year profit in three years, as it was first impacted by political unrest in 2019, followed by the coronavirus pandemic a year later, which saw its Hong Kong hub completely shut down.
The forecast compares to the HK$5 billion net loss it reported in the first six months of 2022. It is also significantly higher than the HK$1.35 billion net profit posted in the first half of 2019, the last time the airline group was in the black.
In separate traffic results, Cathay carried more than 1.54 million passengers in June, improving on May's numbers and a significant jump year on year.
Cathay chief customer and commercial officer Lavinia Lau says passenger travel demand continues to perform well. She adds: "Our long-haul routes popular for student traffic, such as North America, the UK and Australasia, all saw good demand, with load factors on flights to Hong Kong averaging about 90%."
Cargo tonnage rose about 6.4% year on year to more than 111,000t, with Lau noting that overall demand "remained flat". Still, e-commerce has helped the airline maintain its monthly volumes.
Adds Lau: "Although cargo demand is expected to remain flat throughout the summer period, we are already preparing for demand to pick up in the latter part of the third quarter."