Cathay Pacific Group is expected to report a profit for the first half of 2023 – its first since 2019 – amid a "strong rebound" in operating perfomance.
The group - comprising mainline operator Cathay and low-cost unit HK Express - adds that it has been operating cash generative in 2023, as its cash flow continues to improve.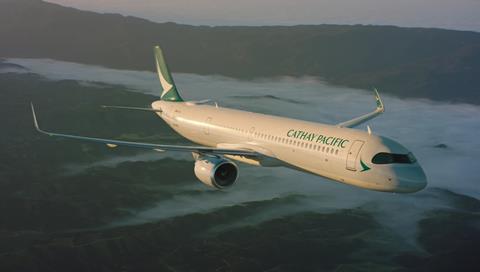 The buoyant outlook follows consecutive losses, as the group was first impacted by political unrest in 2019, followed by the Covid-19 pandemic a year later, which saw its Hong Kong hub completely shut down.
The city has sinced eased its 'zero-Covid' restrictions for international travellers for most of this year, allowing its home carrier to rebuild its network.
Cathay's commercial and customer chief Lavinia Lau did not disclose a profit range for the half-year period. Its net profit in the first-half of 2019 stood at HK$1.35 billion ($172 million).
The forecast comes as the airline sees "good progress" in traffic recovery. In May, mainline operator Cathay carried more than 1.4 million passengers – 2.6% higher compared to April figures.
Lau notes that travel demand to Japan and Thailand held strong during the month, as did transit traffic to and from Mainland China.
She adds: "The peak summer season looks promising as we expect to get a boost from students returning to Hong Kong after the school term ends."
On cargo, Lau says market volume for the month "remained largely flat". Still, the airline saw cargo traffic increase 73% compared to 2022, when Hong Kong imposed strict cargo crew quarantine measures.