Hong Kong carrier Cathay Pacific has committed to cut carbon emissions to net zero by 2050, by focusing on investing in sustainable aviation fuel (SAF), carbon emission offsets and reducing emissions through enhanced efficiency.
Cathay Pacific's chief executive Augustus Tang called for increased efforts to tackle the "imminent global risk" and what is "potentially a much more disruptive crisis" than the Covid-19 pandemic, says the Oneworld carrier a 20 May press release.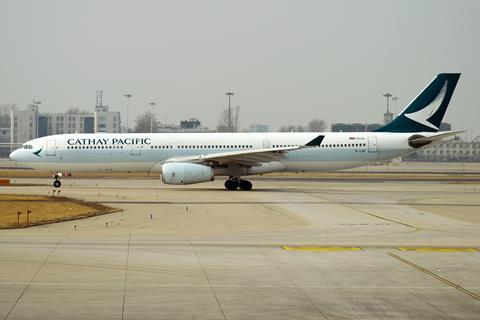 The group outlined its climate commitments in its Sustainable Development Report 2020 report, which it released in a 18 May filing on the Hong Kong Stock Exchange.
"While the aviation industry contributed less than 3% of the world's man-made CO2 emissions prior to the Covid-19 pandemic, Cathay Pacific embraces its responsibility to lead the charge towards sustainable aviation and ensure future generations can experience the joy of travel," Tang says.
Cathay Pacific aims to increase its use of SAF, aiming to buy 1.1 million tonnes over 10 years to meet about 2% of overall fuel needs from 2023 onwards.
The group has set a target to cut ground emissions by 32% from the 2018 baseline before 2030 by minimising engine use on the ground and bringing on board a new fuel-efficient fleet.
Through its Fly Greener carbon offset programme, the airline has offset more than 300,000t of carbon dioxide emitted from its flights to date. The programme enables Cathay's passengers to buy offsets based on the carbon dioxide emitted from their flight.
"Our net-zero pledge aligns with the requirements laid out in the UN's Intergovernmental Panel on Climate Change (IPCC) and the Paris Agreement, and provides the focus we need in aligning our strategy – from fleet planning and carbon offsetting to further investment in sustainable aviation fuel and the development of new technologies," adds Tang.