Hong Kong's travel restrictions continue to hamper the traffic performance of home carrier Cathay Pacific, but there are marginal signs of improvement, including a narrower half-year loss forecast.
Recent adjustments to Hong Kong's travel restrictions started to have an impact on traffic figures in May, says the airline.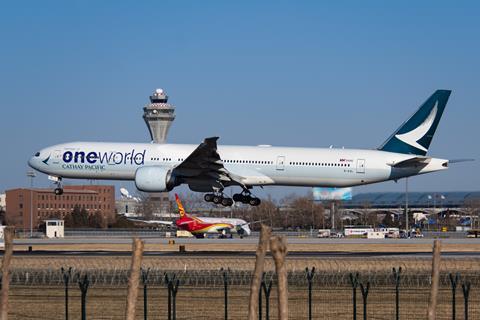 During the month, it carried 57,982 passengers, more than double the number carried in May 2021, but still 98% lower than in May 2019.
"The introduction of further adjustments to travel restrictions and quarantine requirements in Hong Kong from 1 May was a welcome development, although our business during the month remained constrained," says chief customer and commercial officer Ronald Lam.
"We increased our passenger flight capacity by 78% compared with April, but we still only operated about 4% of our pre-pandemic levels. Traffic volume in terms of RPK increased 94% month on month, and this was driven primarily by long-haul flights. As a result, overall load factor reached 60.5%."
Though Hong Kong has reduced quarantines for inbound travellers, the Special Administrative Region remains closely aligned to China's 'Zero-Covid' policy, which seeks to quash all local outbreaks.
May's cargo carried was flat from a year earlier with May's ATKs dropping 25% year on year.
The extension of Shanghai's Covid-19 lockdown into May continued to hurt cargo demand, but towards the end of May things picked up as restrictions eased in the Chinese city.
"As for Hong Kong, volumes improved as cross-border feeder services between Shenzhen and Hong Kong allowed for a more stable flow of cargo, although it remains below the capacity available prior to the fifth wave of Covid-19 in Hong Kong," adds Lam.
"Demand from other parts of our network remained relatively strong throughout the month. Overall in May, we operated about 34% of our pre-pandemic cargo flight capacity, while load factor was 75.7%."
Cathay adds that the addition of flight capacity in the second quarter, as well as continued strength in the cargo market, will help it narrow its losses for the first half of 2022.