Cathay Pacific expects a "strong boost" from student traffic to the UK and USA to continue through September, and is "cautiously optimistic" of a robust winter cargo season.
The Hong Kong-based carrier also acknowledged the positive impact that the "progressive" easing of travel curbs – including reducing quarantine time and lifting flight bans – has had on its July traffic results.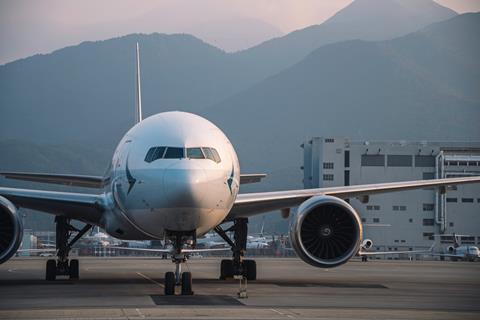 For the month, Cathay carried close to 220,000 passengers, a four-fold increase year on year, and about 47% higher than June's passenger numbers. However, the figure was just 6.7% that of pre-pandemic 2019, underscoring the long-drawn recovery confronting the carrier.
Traffic soared more than four-fold year on year, while capacity rose 75%. Against 2019 levels, traffic was down about 89%, while capacity plunged nearly 88%. Cathay adds that capacity was up 24% against June, as Hong Kong travel restrictions were loosened.
Cathay chief customer and commercial officer Ronald Lam says demand was "particularly robust" from the Chinese Mainland to Australia and USA. Demand also held up for UK flights, especially with returning students.
Lam adds: "Student traffic to the US and UK is also expected to provide our travel business with a strong boost in August and September. However, our ability to add more passenger flight capacity will remain limited unless the restrictions on our aircrew are lifted."
As for cargo, Cathay notes demand has been flat for the month, which is traditionally a quieter period for freight traffic. The airline carried 100,714t of cargo in the month, down 17% year on year, and about 41% lower than pre-pandemic 2019.
Cargo capacity shrank 16% year on year, and was down nearly 49% compared to 2019.
Cathay is operating a full cargo schedule in August, with an additional boost expected from regional cargo-only passenger flights, as well as more belly capacity from additional passenger flights.
Says Lam: "We are cautiously optimistic about a solid seasonal winter peak season, although this is anticipated to be less pronounced than the one we experienced in 2021 in light of the current global economic environment."