Cebu Pacific is seeing slow recovery into Mainland China, as it takes a "wait and see" approach to fully restoring capacity into the country.
The sentiment comes as the Philippines low-cost operator expects systemwide recovery by the end of this year, as it swung to a third-quarter profit on strong travel demand.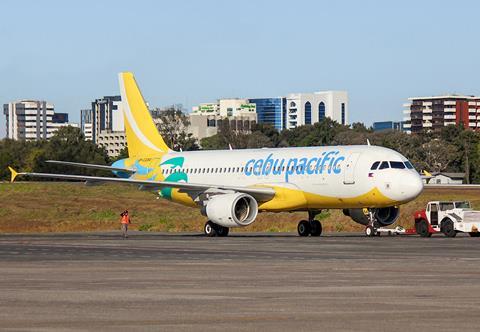 Speaking at an investors' briefing following the release of the airline's third-quarter results, commercial chief Alexander Lao says: "We are reintroducing the network slowly. We restarted [flights to] Shenzhen [from Manila] but have deferred [resuming flights to] Beijing. We are ramping up for the Lunar New Year period [in February 2024], but at this point it's just wait and see."
The airline's systemwide capacity as at end-September stood close to full recovery, as domestic ASKs continue to track above pre-pandemic levels. By the end of year, Cebu Pacific expects systemwide capacity to be 3% higher than 2019 levels, with international ASKs to be at 93% pre-Covid-19 levels.
Cebu Pacific mounted more than 35,900 flights in the third quarter, up 18% year on year and 1% more than pre-pandemic levels. It carried 5.3 million passengers, up 27% against the year-ago period, but down 4% on 2019 levels.
In the quarter to 30 September, Cebu Pacific posted an operating profit of nearly Ps2.4 billion ($42.8 million), swinging from the Ps3 billion loss in the year-ago period.
The airline, which is the Philippines' largest carrier by market share, saw a 39% jump in operating revenue to Ps23.3 billion, far outpacing a 5% increase in costs.
The airline adds: "[Cebu Pacific] saw a notable increase in travel demand in the third quarter, attributable to the change in school calendars, which shifted graduation and school breaks towards the months of June to August."
The airline reported a net profit of Ps1.3 billion, against the Ps2.5 billion net loss in the year-ago period.