Cebu Pacific trimmed its operating loss for the third quarter on the back of a significant increase in passenger travel revenue, despite it being a "lean season".
For the three months to 30 September, the low-cost operator was Ps3 billion ($51.6 million) in the red at the operating level, improving on the Ps6.2 billion loss in the year-ago period.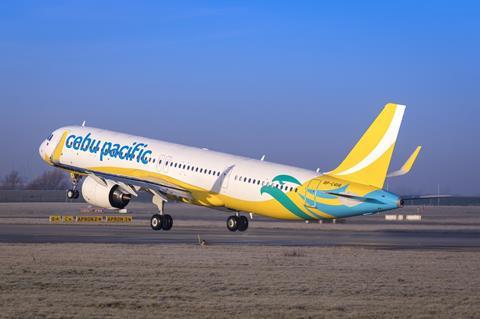 Quarterly revenue grew five-fold to Ps16.9 billion, led mainly by passenger revenues increasing nearly ninefold. The airline states it flew over 4 million passengers across its network, more than five times the number carried a year ago.
Cargo revenue also saw an increase, rising 41% year on year, while ancillary revenue leapt eight-fold, as a result of an increase in passenger numbers.
The airline saw quarterly costs double year on year, to Ps19.9 billion, due mainly to "significantly higher" jet fuel prices, as well as the depreciation of the Peso.
Airline finance chief Mark Cezar says: "We are encouraged by some notable improvements in our numbers amidst the ongoing challenges related to fuel and foreign exchange rates. We remain cautiously optimistic that through our ongoing initiatives, coupled with a sustained increase in passenger traffic, we will soon see better days ahead."
The airline ended the quarter with Ps23.8 billion in cash and cash equivalents, higher than the Ps18.1 billion it began the year with.
As at 30 September, Cebu Pacific had 77 aircraft in its fleet, three more than at the start of the year.