Cebu Pacific returned to the black in its first quarter earnings, helped by a strong rebound in passenger revenues, as it anticipates returning to pre-pandemic international capacity by end-June.
For the three months to 31 March, the low-cost operator reported an operating profit of around Ps1.2 billion ($21.7 million) – its first profit since the start of the pandemic – reversing the Ps5.3 billion loss posted in the year-ago period.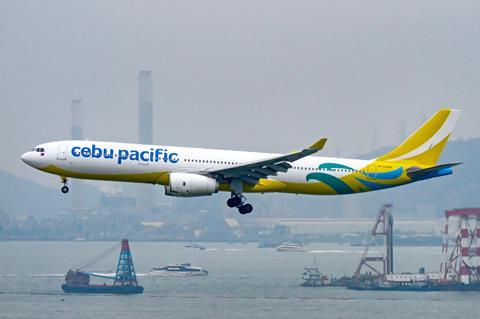 Revenue for the quarter tripled year on year to nearly Ps21 billion, led by a four-fold jump in passenger revenues.
Cebu Pacific flew 4.8 million passengers in the first quarter, more than twice compared to the same period last year, with the number flights up 94% year on year.
Costs rose 63% to Ps19.6 billion, in line with an increase in flying activity. Still, Cebu Pacific says it improved its profit margin through "increased utilisation of aircraft and operating systems, coupled with higher productivity of crew and personnel".
It disclosed a net profit of Ps1.1 billion, compared to the Ps7.6 billion net loss in the year-ago.
The airline says it expects system-wide capacity to exceed pre-pandemic levels in the current quarter, which ends 30 June, "supported by an optimistic outlook as the tourism industry continues to recover, plus the strengthening of its Clark and Cebu hubs".
International capacity will hit 2019 levels in the same quarter, on the back of key markets in North Asia reopening.
Airline chief Mike Szucs previously told FlightGlobal the airline expects to turn profitable in the first quarter. It is also banking on opportunities to outstrip its pre-crisis financial performance in the years ahead as it emerges from the pandemic.