Cebu Pacific expects to ground 10 Pratt and Whitney PW1100G-powered jets in January alone, with up to 20 aircraft likely to be taken out of operations through next year.
Airline chief Mike Szucs says the ongoing engine issues – which he notes had "unexpectedly confounded" the airline – have forced Cebu Pacific to forecast seat capacity growth "admittedly more modestly than we would have anticipated".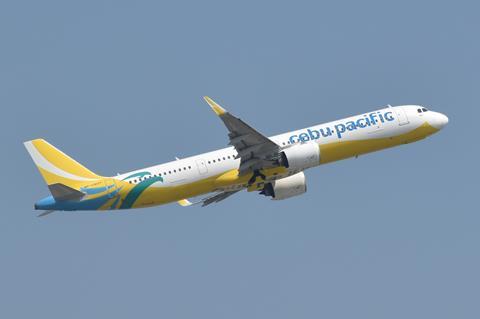 The airline now projects between 5% and 8% seat growth in 2024, and Szucs says the airline "would have hoped to be well in the double-digit percentages of growth" were it not for issues on the PW1100G, which powers its A320neo and A321neo aircraft.
Szucs was speaking on a virtual briefing following the release of the airline's third-quarter financial results.
It is the latest update from the low-cost operator on the impact of the PW1100G's technical issues. On 11 September, P&W parent RTX said that around 600-700 engines must be removed and inspected between now and 2026 for defective high-pressure turbine and compressor discs.
Days later, Cebu Pacific said it would be revising downwards its fleet growth rate for 2024, given that an unspecified number of aircraft will be impacted.
Speaking on 14 November, Szucs also flagged other challenges, including a lack of MRO slots and limited parts availability, as well as delivery delays.
He says this is the second time this year that the airline has had to contend with PW1100G issues. Earlier this year, the airline grounded several A320neo family aircraft for engine hot-section durability improvements.
That issue leaves four jets currently grounded awaiting maintenance slots, and Cebu Pacific expects the latest round of technical issues to affect six more jets in January.
Still, Szucs stresses that the airline has plans to "ensure operational resilience" against the latest groundings. For one, Cebu Pacific "remains committed" to fleet growth in the new year, and has secured leases on new or used aircraft and engines.
It expects to end 2024 with 92 aircraft, up from the 79 it projects for the end of 2023. However, Szucs says that the actual operational fleet could be a lower figure, given its ongoing engine woes.
According to Cirium fleets data, Cebu Pacific has an in-service fleet of 11 A321neos and 13 A320neos. Another 28 examples are on order.
Cebu Pacific's update follows that of fellow low-cost operator IndiGo, which on 8 November said the PW1100G issues will forced it to ground over 30 A320neo family jets in the first quarter of 2024.