US regulators have approved the Cessna SkyCourier twin-engined utility turboprop, opening the path to first delivery to launch customer FedEx Express.
Production of the first customer aircraft is already under way, says Cessna owner Textron Aviation.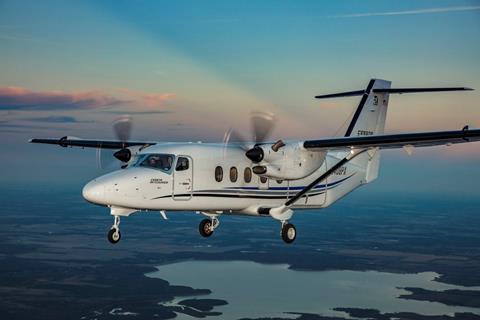 "Achieving Federal Aviation Administration certification for the Cessna SkyCourier demonstrates the expertise and hard work of our employees, as well as Textron Aviation's continued investment in providing solutions for our customers," says Ron Draper, the airframer's chief executive.
"Our clean-sheet design brings to this segment what customers said they need: the ability to load, fly, unload and repeat with low operating costs and maximum cabin flexibility and efficiency."
A total of three prototypes participated in the certification campaign, accumulating more than 2,100 flight hours, beginning in May 2020.
FedEx has ordered 50 SkyCouriers in a cargo configuration, plus 50 options; its first aircraft rolled out earlier this year.