China Airlines will phase out the last of its passenger Boeing 747-400s by early 2021, becoming the latest carrier in the region to retire the type, which it has operated for more than 30 years.
The airline disclosed its move through an announcement for a 747 farewell event, to be held on 6 February, which will see a 747-400 (registered B-18215) perform a flight to nowhere towards Mt Fuji in Japan, before returning to Taipei.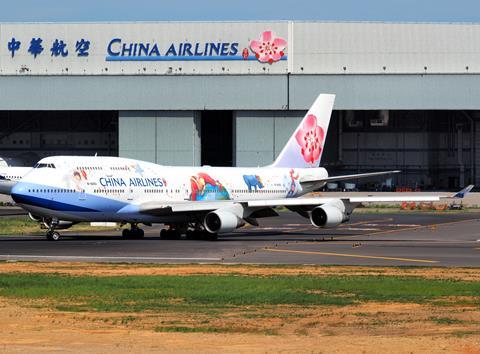 Cirium fleets data indicates that the carrier has four passenger 747-400s currently in storage. China Airlines also has 18 747-400Fs in operation, with a further two freighters in storage.
China Airlines did not disclose an exact date for the retirement of its 747s.
The announcement also marks the end of more than 45 years of 747 passenger operations. China Airlines took delivery of its 747, a -100, in 1975, which it operated until 1983.
In 1977, the carrier added its first 747SP, operating up to four examples, before retiring the aircraft in 2000.
China Airlines received its first and only 747-200B Combi in 1978, and took delivery of its first 747-200B a year later. It phased out the Combi aircraft in 1992, and retired the -200Bs by 2002.

The carrier took delivery of its first 747-400 in 1990, going on to operate up to 15 examples in 2007. B-18215, which will operate the farewell flight, was the last-ever 747-400 to be produced by Boeing in 2005.
While its 747-400Fs are still in operation, they will be replaced in the longer term by a fleet of 777Fs, which China Airlines took delivery of in December.
China Airlines is the latest airline to bid its 747 fleet farewell, amid the spectre of the coronavirus pandemic. Last March, Dutch carrier KLM announced the imminent retirement of the type, followed by Australia's Qantas in June, and British Airways in July. Virgin Atlantic withdrew its final Boeing 747-400 in December.