China Airlines has taken delivery of its first Boeing 777F, as it sets its sights on expanding its cargo business in the coming year.
The aircraft, registered B-18771, is the first of six 777F aircraft China Airlines will operate, with deliveries spanning between 2020 and 2023. It will take delivery of another two 777Fs by January 2021.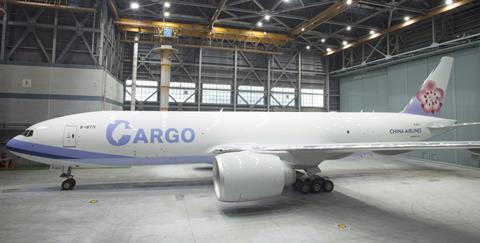 The carrier will operate the new 777Fs on cargo routes between Taiwan and North America, as well as to Asia, as it hopes to tap into burgeoning demand amid the coronavirus pandemic.
China Airlines will use the 777Fs — first ordered in 2019's Paris air show — to replace its ageing 747-400Fs. Cirium fleets data indicates the carrier to have 18 in operation, and a further two in storage.
The carrier also joins compatriot EVA Air as 777F operators, with the latter operating a fleet of five examples, and a further three more on order.
China Airlines has doubled down on cargo amid the pandemic, noting that revenue from freighter operations between January and November has grown 83% year on year. The SkyTeam airline is also looking to grow cargo capacity by 15% in 2021.
"The fleet of 21 freighters [by end-January 2021] will pave the way for a new generation of air cargo services by China Airlines in the post-pandemic era. The demand for freighter aircraft from vaccine transport and the general freight market should help boost cash flow for China Airlines Cargo Services," the carrier adds.
The new 777F, which arrived in Taipei on 1 December, sported a livery that differs from the original artist's impressions, as well as the rest of the fleet.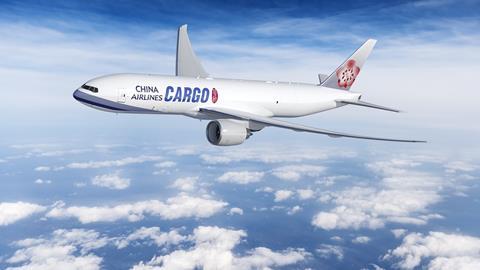 A silhouette of the island of Taiwan is superimposed on the letter 'C' of the word 'Cargo', with the China Airlines branding given less prominence at the aft of the aircraft.
Speculation was rife online in early December that the carrier would debut a different livery — or even a different name — on its first 777F.
It comes amid an ongoing debate to rename China Airlines, as the airline's name might lead to confusion whether the carrier came from the People's Republic of China, or Taiwan. China regards Taiwan as a breakaway province, which it has vowed to retake, by force if necessary.
The discussion arose as China Airlines mounted several freighter flights at the height of the pandemic earlier in the year, delivering medical supplies to assist in aid efforts.
The move to rename the national carrier gained parliamentary approval in July, though the carrier has not shown any indication yet of a possible rebranding.