China Eastern Airlines and China Southern Airlines are set to ramp up flying across both domestic and international networks in anticipation of an influx of holiday travellers, as domestic capacity climbs well above pre-pandemic levels.
The separate announcements, both issued on 28 September, come as Mainland China enters into an extended holiday period: the Mid-Autumn festival, which falls on 29 September, as well as the National Day, which falls on 1 October and lasts for one week.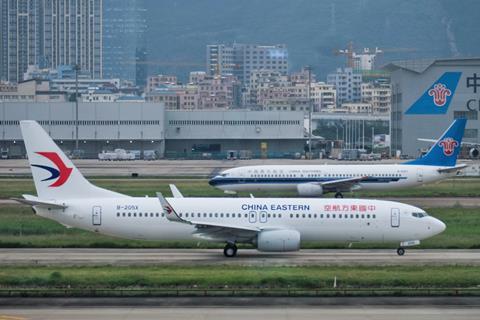 For the first time in over three years, both carriers have also upgauged a number of international flights, underscoring the outbound travel demand from Mainland China.
For the 27 September-8 October period, China Eastern and its subsidiaries Shanghai Airlines, OTT Airlines, and China United Airlines, have scheduled close to 3,000 daily flights system-wide, with capacity more than 20% higher than the same period in pre-pandemic 2019.
A large proportion of these flights will be domestic, says Shanghai-based China Eastern, with capacity set to double compared with 2019 levels.
Several cities in the airline's domestic network will be upgauged to widebody aircraft, including Chengdu, Zhengzhou, Urumqi and Sanya.
On the international network, China Eastern says flights to Toronto and Istanbul have been popular with travellers, as well as Wenzhou-Bangkok and Qingdao-Taipei flights.
China Southern and its subsidiaries, meanwhile, have scheduled more than 2,200 daily domestic flights, with additional flights from Guangzhou to cities such as Wuhan and Haikou, as well as Beijing Daxing to Chengdu and Guilin.
The carrier will also add more flights to Japan and South Korea, in line with an increase in demand. It also plans to resume flights to several city pairs, such as Guangzhou-Bangkok/Chiang Mai, Wuhan-Seoul, as well as Wuhan-Taipei.
The latest capacity update comes more than half a year after China eased a majority of its zero-Covid international travel restrictions. It is also the first major holiday period in China since Beijing scrapped a ban on outbound group travel to over 70 countries, including to major economies like the USA, UK, Japan, India and South Korea.