China Eastern Airlines' controlling shareholder CEA Holding will inject up to CNY10.8 billion ($1.67 billion) into the airline by purchasing nearly 2.5 billion of newly issued A-shares, in a move the Shanghai-based carrier says will provide "strong financial support" for it to develop its business to cope with the impact of Covid-19.
The A-shares, which have a par value of CNY1 ($0.15), will be issued at CNY4.34 per share, a 2 February filing to the Hong Kong stock exchange shows. A-shares are shares denominated in Chinese yuan and trade on the Shanghai and Shenzhen stock exchanges.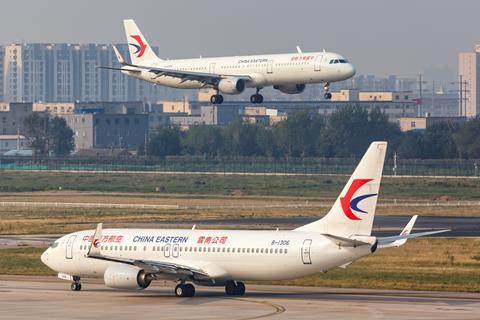 CEA Holding holds approximately 49.8% of the 16.4 billion China Eastern shares in issue. It directly and indirectly holds around 5.53 billion A-shares and about 2.63 billion H-shares – shares of mainland Chinese companies that are traded on the Hong Kong stock exchange – through CES Global Holdings (Hong Kong).
CEA Holding must purchase the additional A-shares within a twelve-month validity period from 2 February, the date on which the issuance was approved at a China Eastern board meeting.
Once the non-public issuance is complete, CEA Holding, which is funding the share purchase with cash, will directly and indirectly own nearly 10.7 billion shares of the airline.
The issuance has a 36-month lock-up period, during which CEA Holding may not transfer its shares. Upon expiration of the lock-up period, the shares will be listed and traded on the Shanghai Stock Exchange.
China Eastern says it will use the proceeds to replenish its liquidity and repay debts. CNY4.83 billion will go towards replenishing liquidity, while CNY6 billion will pay off debts.
It adds that if it does not receive the proceeds in time, it will first repay debts with its own capital, then replenish its capital with the corresponding amount of proceeds from the issuance.
"The non-public issuance will meet the company's capital needs for business development, further enhance the company's comprehensive strength, realise the company's sustainable development, strengthen the company's core competitiveness for long-term sustainable development, and effectively improve the company's profitability and risk-resistance capacity," the airline says.
It adds that this will also help improve the company's capital structure, lower its gearing ratio, ease its pressure on debt financing due to funding needs, and enhance its financial stability.
The issuance still requires approval the state-owned Assets Supervision and Administration Commission (SASAC), described as China Eastern's de facto controller; the Civil Aviation Administration of China; as well as securities regulator the China Securities Regulatory Commission.
After obtaining these approvals, China Eastern will apply to the Shanghai Stock Exchange, China Securities Depository and Clearing Corporation (Shanghai branch) and "other relevant institutions" for the issuance, registration and listing of shares.
After the issuance, China Eastern's controlling shareholder will remain as CEA Holding and its de facto controller will remain as SASAC.
China Eastern says: "The controlling shareholder, by its actions [in agreeing to buy the A-shares], demonstrates its confidence in the company's future prospects and its full recognition on the company's value, which will safeguard the interests of small and medium shareholders."