China Southern Airlines has retired its last two Airbus A380s, marking the type's complete exit from the Chinese market after more than a decade of operations.
In its half-year financial report, the Guangzhou-based carrier – China's only A380 operator – says it exited the two aircraft during the first half of 2023.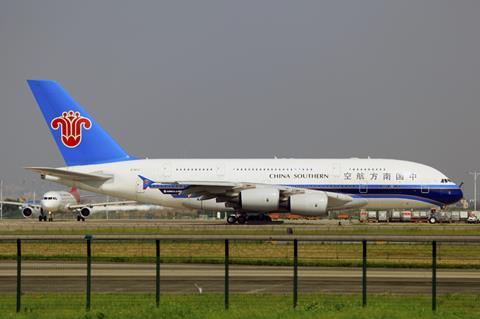 The fate of China Southern's A380 fleet was thrust into the spotlight amid the Covid-19 pandemic, which saw China's international borders firmly shut for nearly three years. The airline operated a small fleet of five superjumbos, operating them mainly on trans-Pacific routes to North America.
In February 2022, reports emerged that the airline was looking to dispose of its A380s by the end of that year, after chalking up heavy losses in the years of operation.
In April 2021, a senior airline executive said China Southern was reviewing the future of the type, acknowledging the uncertainty about the international recovery, coupled with high operating costs.
The airline's first A380 was delivered in 2011, three years later than original projections, and began flying to Los Angeles in 2012. China Southern was said to be incurring millions of dollars in A380-related losses, before a change in scheduling helped the type generate profits.
During the early days of the pandemic, China Southern deployed the A380 on domestic repatriation flights, as well as on routes with higher demand.
The A380 faces a mixed fate among Asia-Pacific carriers in a post-pandemic operating environment. Like China Southern, several other operators, such as Thai Airways International and Malaysia Airlines, have completely retired their A380s.
Meanwhile, airlines like Qantas and Singapore Airlines still operate the type, with Qantas recently indicating plans to keep the A380 in its fleet until around 2032.