China Southern Airlines became the first of China's three largest carriers to report a quarterly operating profit since the coronavirus outbreak began, breaking its loss-making streak in the first half of the year.
Its compatriots Air China and China Eastern Airlines, while still in the red for the three months ended 30 September, managed to narrow their losses.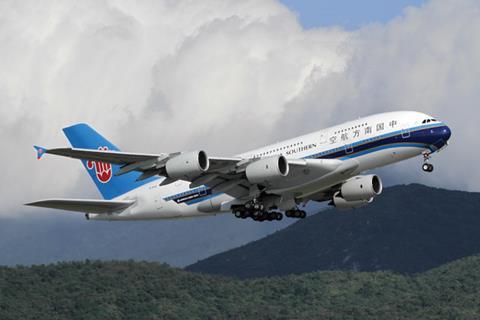 China's 'Big Three' has benefited from robust domestic travel demand during the period, helped by months of steady traffic improvement that culminated in full domestic recovery in September.
China, where the first coronavirus cases were discovered, has largely brought the outbreak under control, paving way for domestic recovery after traffic bottomed out in February.
China Southern, now the country's largest domestic carrier, reported an operating profit of CNY1.1 billion ($161 million), about 67% lower year on year, but a reversal of two consecutive quarters of losses reported this year.
Revenue for the quarter fell nearly 40% to CNY26.4 billion, while expenses declined about 37%.
The Guangzhou-based carrier reported a net profit of CNY711 million, a 70% decline year on year, but a reversal of the CNY 2.9 billion net loss it made in the previous quarter.
On a nine-month basis, China Southern was still firmly in the red, reporting an operating loss of CNY11.2 billion for the nine months ended 30 September. It disclosed a net loss of CNY7.5 billion for the period, reversing the CNY4.1 billion net profit it reported in the same period last year.
As for Air China, it reported an operating loss of CNY508 million for the period, compared to the CNY4.9 billion profit it made last year.
The Star Alliance carrier saw revenue for the period halve, to around CNY19 billion, while its expenses nosedived 43% to CNY19.8 billion.
Air China disclosed a net loss of CNY671 million, bringing its nine-month net loss to around CNY10 billion.
China Eastern posted an operating loss of CNY915 million, as revenue for the period fell by half to CNY17.2 billion and operating costs declined 33% to CNY18.4 billion.
Net loss for the period was CNY563 million, taking its nine-month net loss to CNY9.1 billion.
China's three largest carriers were expected by analysts to turn profitable by the third quarter of the year, helped by a full recovery of domestic traffic.
However, the carriers note that international passenger travel demand is still in the doldrums, thanks to travel restrictions imposed globally to curb the pandemic's spread.
At least one carrier — China Eastern — has warned that its full year earnings will continue to be "materially and adversely affected" by the pandemic.
"With the continuous improvement of prevention and control of Covid-19 in China and the steady recovery of social production and living order, civil aviation in China has shown a trend of steady recovery. However, as affected by the situation of Covid-19 around the world, passenger transportation of international routes has remained at a low level," China Eastern states.
"Based on the preliminary judgement of the situation of Covid-19, it is expected that the operation results of the Company for 2020 will be materially and adversely affected," the SkyTeam carrier adds.