China Southern Airlines is set to undertake two share issuances, which will see it raise funds for new aircraft, as well as its working capital.
The airline, China's largest domestic operator, is set to issue fresh shares – worth around CNY17.5 billion ($2.46 billion) – to "not more than" 35 specific investors, which includes parent company China Southern Airlines Holdings.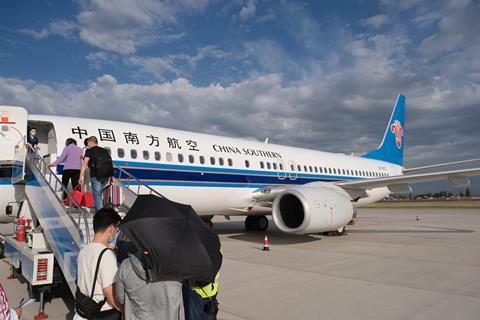 Proceeds from this fundraising will go towards funding new aircraft purchases and its working capital. China Southern says it has not identified the other specific investors for the share issuance.
Separately, the airline will issue about HK$2.9 billion ($370 million) in shares to wholly-owned investment subsidiary Nan Lung. Funds will go towards the working capital of the carrier.
In explaining why it was undertaking the fundraising exercise, Guangzhou-based China Southern says the additional capital will "be able to expand the scale of the company's fleet, optimise the age structure of the aircraft, enhance the level of aviation capacity, and lay the foundation for increasing the frequency density of existing flight routes and opening new flight routes."
The carrier says the fresh capital will also help "alleviate the pressure brought by the capital demand from the daily operation of the company".
In the quarter ended 31 March, China Southern - alongside its state-owned compatriots Air China and China Eastern - were in the red, though they were able to slash their losses as domestic restrictions eased significantly.
China Southern posted an operating loss of CNY1.5 billion, narrowing from the record CNY5.9 billion loss it posted in the year-ago period.
It saw revenue increase 59% year on year to CNY34 billion, while quarterly costs rose about 30% year on year to CNY36.6 billion.