China's three largest carriers are expecting to swing firmly into the red for the year ended 31 December 2020.
Releasing their profit warnings for their full-year earnings, the 'Big Three' — comprising Air China, China Eastern Airlines and China Southern Airlines — each noted that travel demand is still largely in the doldrums, amid a resurgence of coronavirus pandemic both within the country and globally.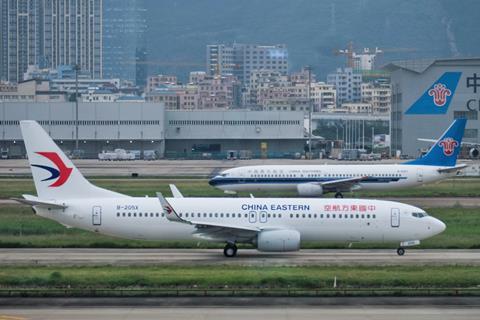 They also disclosed that despite efforts to reduce costs and drive up revenue, the "unprecedented challenges" presented by the coronavirus have punished their profitability.
Among the 'Big Three', Air China is forecast to perform the worst — it expects a full-year net loss of between CNY13.5 and 15.5 billion ($2.1-2.4 billion). In contrast, the carrier reported a net profit of CNY6.4 billion for the year ended 31 December 2019.
Still, the Star Alliance carrier expects to narrow its net loss for the second-half, after reporting a CNY9.4 billion net loss for the six months ended 30 June 2020.
China Eastern, meanwhile, estimates net losses to be between CNY9.8 to 12.5 billion, reversing the CNY3.2 billion net profit it reported the previous year.
China Southern, which in the third quarter of 2020 swung back into the black, has forecast its full-year net loss to be between CNY7.9 and 10.9 billion. In 2019, it reported a net profit of CNY2.7 billion.
The 'Big Three' note that while traffic has recovered somewhat since bottoming out last February, demand and "willingness to travel" have "dropped significantly".
Air China states: "The market demand for civil aviation passenger flights in China shrank with inverted input-output structure, and the passenger capacity on international airlines decreased to an extremely low level."
Echoing similar sentiments, China Eastern adds: "Although the company put in every effort to increase revenue and reduce costs, due to the severe impact of Covid-19, the company's operating results in 2020 were still significantly and adversely affected."
The three carriers saw passenger traffic numbers fall in December, amid a resurgence in cases in the country.
Data released by Eurocontrol on 29 January revealed that domestic flights in China have entered a steep downward trend in late-January, falling to levels last seen in May 2020.
Against the backdrop of a re-emergence of the coronavirus, China has discouraged non-essential travel during the upcoming Lunar New Year period, which is traditionally a peak travel season.