China's three largest carriers are expected to remain loss-making for the first-half, as they blamed a slower-than-forecast international recovery, coupled with domestic overcapacity.
Still, the 'Big Three' – comprising Air China, China Eastern Airlines and China Southern Airlines – have forecast a narrower net loss in the six months to 30 June, compared to the year-ago period.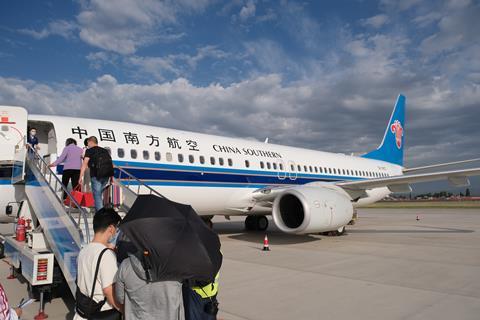 Their forecasts differ from that of several privately-owned Chinese airlines, some of whom expect to return to profitability during the period.
It also stands in stark contrast to other airlines in Asia-Pacific, many of whom are already reporting profits as Covid-19 travel restrictions ease. China only scrapped most of its onerous 'zero-Covid' policies late 2022, but international travel has been slow to pick up since then.
Air China expects a net loss of between CNY3.2 and 3.9 billion ($447-545 million) for the half-year. This compares to the staggering CNY19.4 billion loss the Beijing-based airline posted in the year-ago period, and the carrier attributes the narrowing of losses to stricter cost control.
Shanghai-based China Eastern, meanwhile, forecasts a half-year net loss of CNY5.5-6.9 billion, making it the worst-performing among the 'Big Three'. In the first-half of 2022, the SkyTeam carrier was CNY18.7 billion in the red.
As for China Southern, it expects to post a net loss of between CNY2.5 and 3.3 billion, significantly narrowing from CNY11.5 billion loss in the year-ago period.
The 'Big Three' pointed to sluggish international recovery among the various factors for remaining in the red, including the depreciation of the Chinese Yuan and fluctuating oil prices. China Southern also blames "oversupply in the domestic market" for its loss projection.
On the other hand, smaller Chinese carriers expect a modest rebound to profitability.
Shanghai-based Juneyao Air, for example, forecasts a CNY55-80 million net profit in the half-year, while low-cost compatriot Spring Airlines expects a CNY650-800 million net profit. Both carriers were loss-making in the year-ago period.
Like the 'Big Three', the two carriers note an improvement in traffic recovery during the period. Still, Juneyao says that while its profits were improving quarter-on-quarter, it was impacted by currency exchange woes, which led to a more modest forecast.
The country's largest private carrier Hainan Airlines, however, is projecting a net loss of CNY1.5-2.1 billion, compared to the CNY12.8 billion loss last year.