A HSBC Global Research report has forecast China's three largest carriers to continue their loss-making streak this year, although it was likely they would narrow their losses on the back of higher domestic traffic.
The report, released a day after the 'Big Three' – comprising Air China, China Eastern Airlines and China Southern Airlines – put out their financial results for the year ended 31 December 2020, estimates combined losses to be around CNY10 billion ($1.52 billion).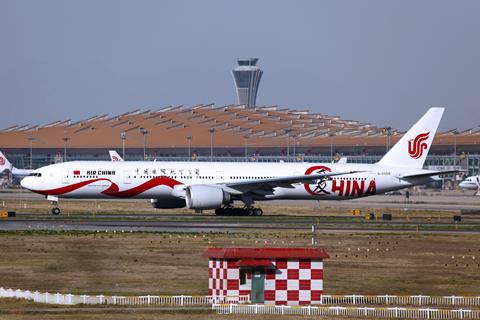 This is a downward revision from earlier estimates of CNY15 billion, says HSBC, as domestic traffic is forecast to continue picking up through the year.
Among the three carriers, the report states that China Eastern and Air China are at risk of "further impairment charges" from the disposal of older aircraft.
In particular, it notes that Air China has greater exposure, given its older fleet and higher share of widebody aircraft, "which have become unemployable due to the stalled international market".
Compatriot China Southern took a hefty CNY4 billion impairment charge in its 2020 full-year results, for the early retirement of an unspecified number of aircraft.
"Despite facing a similar market situation, we do not see such extent of impairment being taken by Air China or China Eastern. Therefore, we caution that there might be a possibility for further impairment charges from these two airlines," the report states.
HSBC researchers also note that cargo, as well as domestic traffic growth, will be two bright spots for the year.
On domestic traffic, the 'Big Three' have disclosed a domestic capacity uptick compared to 2019 pre-pandemic levels in the coming months. Air China, for example, says it expects ASKs to increase 30-40% in July-August, compared with 2019 levels.
China Eastern has forecast domestic capacity to go up 30% in April, compared with the same month in 2019.
The three carriers have also reported that their preliminary traffic data for March has surpassed 2019 levels.
Domestic capacity was on the up for most of last year, after bottoming out in February when the coronavirus outbreak upended the Chinese airline industry. However, the airlines saw traffic slide towards the end of the year, when a spike in locally transmitted cases was reported.
The 'Big Three' racked up significant losses in 2020, on the back of plummeting revenue.