A fresh wave of coronavirus infections in several parts of China in late-July failed to dampen domestic traffic growth for the country's three largest carriers.
The 'Big Three' — comprising Air China, China Eastern Airlines and China Southern Airlines — each carried more domestic passengers in July compared to June, as well as the same period a year ago.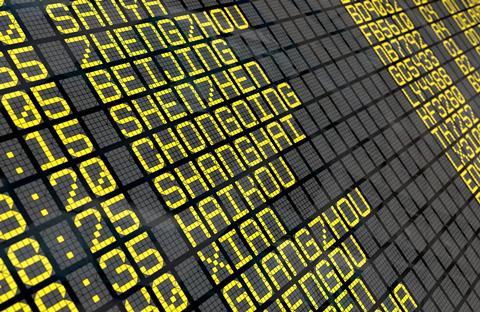 This was despite a fifth wave of infections — caused by the more infectious Delta variant — sweeping across several parts of China and leaving several cities, including the infection epicentre of Nanjing, under lockdown and with many others imposing stricter social gathering measures.
The first case from the current wave — an airport worker in Nanjing — was discovered on 20 July. Days later, the airport, a key air transport node in China, was completely shut, with other airports imposing more stringent pre-departure and post-arrival measures to manage the crisis.
China Eastern, which counts Nanjing among its hubs, also warned that the pandemic "still has a significant impact" on its airline business.
Still, the tightened measures in the last week of the month did little to dent domestic traffic numbers in July, traditionally a peak travel period in China in summer.
Air China carried 7.6 million domestic passengers for the month, a 23.5% increase compared to June and a 31% uptick year on year.
On a year-on-year basis, the Beijing-based carrier reported a 37% increase in traffic, with capacity rising 33%. Domestic passenger load factor for the month was 74.6%, 2.4 percentage points higher year on year.
As for China Eastern, it flew 8.7 million domestic passengers in July — 21% higher year on year. Compared to June, it represented a modest 9.8% increase in passenger numbers.
The SkyTeam carrier reported a 22% increase in capacity year on year, with traffic 25% higher.
Domestic passenger load factor for the month was 75.4%, representing a 2 percentage point increase year on year.
China Southern Airlines, meanwhile, carried 11.1 million domestic passengers, a 24% increase year on year. Compared to June, it represents a 32% jump.
The Guangzhou-based carrier saw domestic RPKs increase 33%, while ASKs grew 26% year on year. Domestic passenger load factor for the month increased 4.4 percentage points year on year to 77.3%.