After a tepid start to the year, China's three largest carriers made significant gains in domestic traffic, surpassing even pre-pandemic levels in some instances.
In traffic results released for March, the 'Big Three' — comprising Air China, China Eastern Airlines and China Southern Airlines — hailed the "steady recovery" of passenger traffic, particularly in their domestic networks.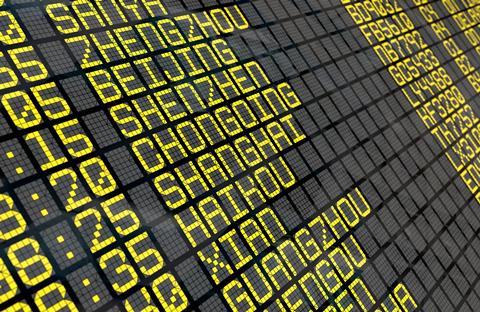 The Civil Aviation Administration of China (CAAC) disclosed in March that Chinese carriers are expected to recover around 90% of pre-pandemic traffic this year, underscoring the recovery China is experiencing after claiming to have controlled the coronavirus outbreak.
Compared to March 2020, when China was in the middle of battling the pandemic, the 'Big Three' have seen domestic passenger numbers nearly triple, with capacity and traffic recording similar increases.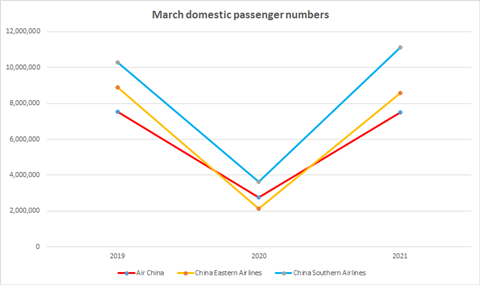 The buoyant sentiment also compares to the uncertainty at the start of this year, when China was hit by a fresh wave of locally-transmitted coronavirus cases. Then, China imposed travel restrictions — even during the Lunar New Year period in February, a traditionally popular travel season — to curb Covid-19s spread.
Consequently, Chinese carriers' traffic took a hit, with consecutive, month-on-month traffic declines reported, up until March.
Air China in March carried 7.5 million domestic passengers, more than double the number flown in 2020. When compared to 2019, it represented a slight dip of just 0.3%.
Traffic for the month also doubled year on year, and was about 0.6% higher than 2019 levels. Capacity saw a two-fold increase compared to 2020, and was 12% higher than 2019.
The Star Alliance carrier also saw similar growth in its traffic results compared to February, when travel restrictions were still in force.
China Eastern, meanwhile, carried 8.6 million domestic passengers for the month. This was four times higher than 2020 levels, but a 3.5% decline compared to 2019.
Domestic RPKs nearly quadrupled year on year, while ASKs saw a three-fold rise. When compared to 2019 levels, traffic grew a marginal 0.8%, while capacity increased nearly 15%.
As for China Southern, it flew 11.1 million domestic passengers in March, the most among the 'Big Three'. This was thrice the number flown in 2020, and an 8% rise compared to the same month in 2019.
RPKs for the month tripled year on year, and was about 8.3% higher than 2019 levels. Capacity, meanwhile, more than doubled year on year, and was about 18% higher than 2019.