China's three largest carriers could all turn profitable in the second half of the year on the back of improving revenue and passenger travel demand, according to a HSBC Global Research report.
However, the 'Big Three' – comprising Air China, China Eastern Airlines and China Southern Airlines – are still expected to be loss-making in their full-year earnings for 2023, even as international capacity returns, says HSBC, reiterating earlier forecasts.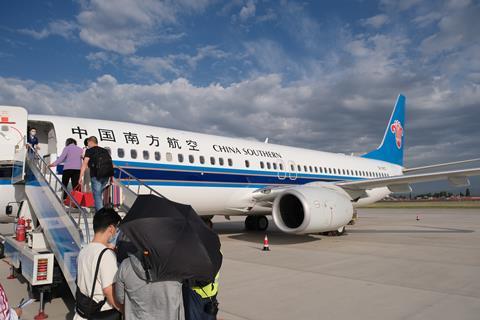 The HSBC report comes a week after the three carriers released their financial results, which saw only China Southern eke out a small operating profit for the half-year. Compatriots China Eastern and Air China remained in the red, though they narrowed their operating losses significantly.
Citing the respective airlines' results briefings, the report notes the "positive signs" in international travel recovery, with a ramp-up likely to take place in the second half of this year, following the easing of travel visa restrictions and resumption of outbound tour packages.
International travel demand has been slower to pick up since China dropped most of its onerous 'zero-Covid' travel curbs earlier this year. China Eastern and China Southern forecast international capacity to reach around 80% of pre-pandemic levels by the end of the year, with Air China offering a more modest projection of about 70%.
The ramp-up in international flying will help the 'Big Three' manage overcapacity on the domestic network, HSBC notes.
"Domestic travel was robust during the summer peak season, but the 'Big 3' unanimously echoed the problem of overcapacity in the domestic market as wide-body aircraft are being deployed on domestic routes," the report adds.
Still, domestic yields in the first half of 2023 were still slightly over pre-Covid levels, an indication of "resilient underlying demand", says HSBC.