China's three largest airlines reported a third consecutive month of traffic recovery in February, the first full month of traffic results since Beijing scrapped most of its strict 'zero-Covid' travel curbs.
In particular, the 'Big Three' – comprising Air China, China Eastern Airlines and China Southern Airlines – saw a surge in international travellers, which made up an otherwise tepid increase in domestic traffic.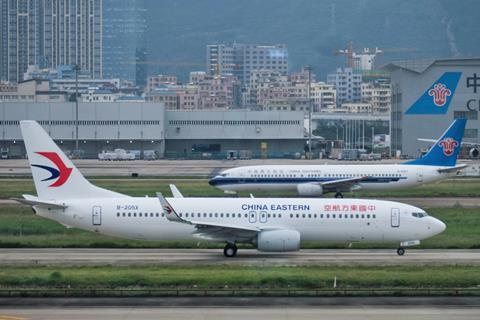 Air China carried 7.2 million passengers system-wide in February, about 7% higher compared to January, and a 64% increase year on year. International passengers – at just over 102,000 – was up 40% month on month, while domestic passenger numbers rose 6% compared to January to 6.98 million.
International capacity grew 36.5% against January, and was more than double the levels reported a year ago, when borders were still shut. Domestic capacity, meanwhile, remained similar to January, but was up about 47% year on year.
As for China Eastern, it carried 7.8 million passengers during the month, a 13% increase against January, and about 39% higher than the year-ago period.
The Shanghai-based carrier saw a 41% month-on-month increase in international passenger numbers, to 113,000, while domestic passenger numbers, at 7.6 million, was up 12.5% compared to January.
System-wide capacity only grew marginally against January at around 6%, though international capacity saw a 51% jump month on month. Like Air China, China Eastern's domestic capacity remained largely the same compared to January.
Meanwhile, China Southern carried 10.1 million passengers in February, 7% more than January, and about 37% higher year on year.
International passenger numbers rose 58% month on month to 256,000, while domestic passenger numbers grew 6% to over 9.7 million. Against the year-ago period, international and domestic passengers were up six-fold and 34% respectively.
February capacity grew about 2% month on month, led by a 46% jump in international ASKs. On a year-on-year basis, China Southern grew capacity by about 27%.
The traffic results come as Chinese carriers continue to ramp up their international flying. On 8 January, China eased most travel restrictions, including quarantine and testing requirements.