After consecutive months of steady recovery, China's three largest carriers reported their first domestic traffic slump in November — the first in more than half a year, with at least one carrier blaming a resurgence in domestic coronavirus cases for the decline.
The 'Big Three' — comprising Air China, China Eastern Airlines and China Southern Airlines — all saw domestic passenger numbers and capacity shrink month on month, with some falling below pre-pandemic numbers.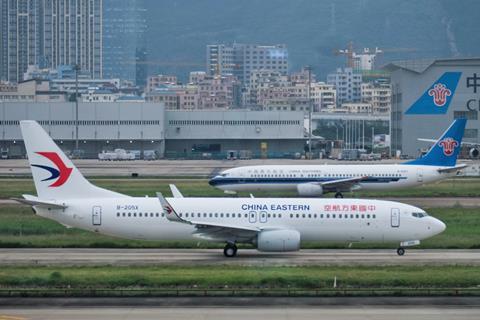 Though it claims to have kept the pandemic under control, China has in recent weeks seen a slight uptick in cases, the bulk of them imported cases, though there have been instances of locally-transmitted cases in a number of provinces.
Says Shanghai-based China Eastern: "Recently, there were confirmed cases of Covid-19 casually found in certain domestic places, which have affected the operations of the company to a certain extent."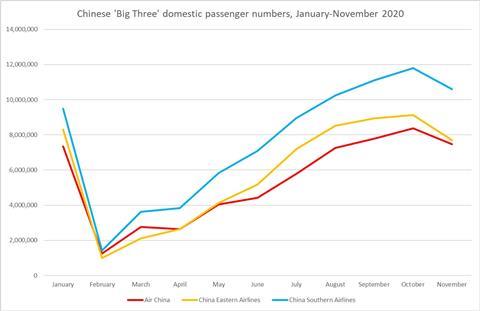 The SkyTeam carrier carried 7.7 million domestic passengers in November, a 15.4% decline month on month. Compared to November 2019, it represented a 14.5% drop.
It was also the lowest passenger number since July, and fell well below January's pre-pandemic figure of 8.3 million domestic passengers carried.
Domestic RPKs fell 16.2% month on month, while ASKs shrank 10.5% compared to October. This marked the first decline in capacity and traffic since January for the carrier. Year on year, RPKs fell 12.6%, while ASKs rose by a marginal 0.3%.
Passenger load factor on the domestic network declined 4.9 percentage points, to 71.9%.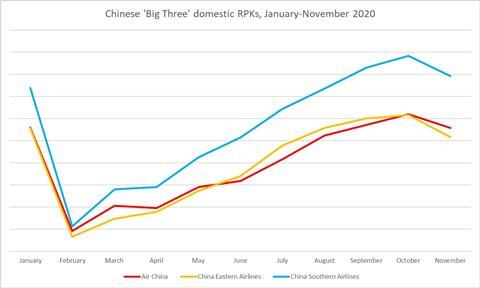 As for Air China, it carried 7.47 million domestic passengers for the month, a 10.8% decline month on month, and a 1.5% drop year on year.
Domestic RPKs for the month saw a 9.9% month-on-month decline, while ASKs fell 6.6% compared to October. Year on year, it represented a 1.6% decline, and a 8.5% uptick, respectively.
Domestic passenger load factor for the month shrank 2.7 percentage points from October, to 73.4%.
November's month-on-month slump in passenger traffic is the first since April, when Beijing, where Air China is based, experienced a surge in coronavirus cases.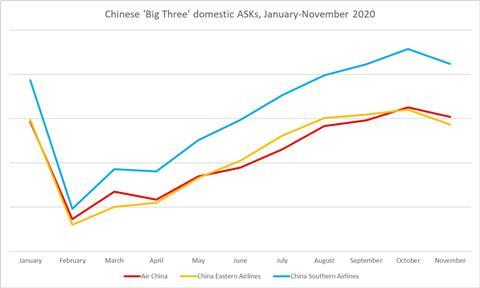 Meanwhile, China Southern, which in its third-quarter earnings managed to eke out a profit, saw similar declines in November's domestic passenger traffic.
The Guangzhou-based airline carried 10.6 million domestic passengers, a 10.2% month-on-month drop, and a 0.7% fall compared to the same month in 2019.
Like China Eastern, this represented China Southern's first decline in passenger numbers since February, when parts of China were put under lockdown to control the spread of the coronavirus.
The carrier reported a 10.5% decrease in domestic RPKs month on month. ASKs, meanwhile, fell 7.3%. Year on year, domestic RPKs dipped 2.4%, with ASKs climbing 8.5%.
Domestic passenger load factor for the month fell 2.6 percentage points to 74.7%.