China's three largest carriers dramatically slashed their red ink in their first quarterly earnings since Beijing eased much of its 'zero-Covid' curbs.
For the three months to 31 March, the 'Big Three' – comprising Air China, China Eastern Airlines and China Southern Airlines – also reported significant revenue gains, as demand rebounded following the scrapping of travel restrictions.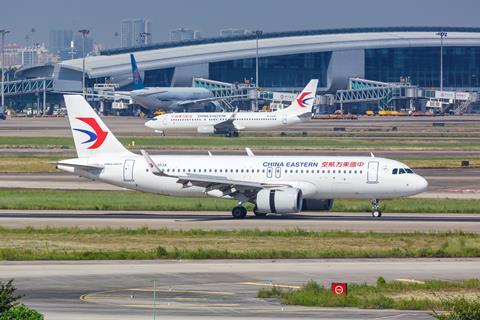 Air China posted an operating loss of CNY3.3 billion ($477 million), compared to the CNY10.4 billion loss in the year-ago period.
The Beijing-based carrier saw its quarterly revenue jump 94% year on year to CNY25 billion. Air China attributed the revenue increase to traffic recovery, along with an increase in yields.
However, the airline saw its quarterly expenses increase 28.5% to CNY29.7 billion, led mainly by a rise in operational costs as flying activity increased.
Air China posted a net loss of CNY2.9 billion for the quarter, compared to the CNY8.9 billion net loss a year ago.
As for China Eastern, it reported a quarterly operating loss of CNY4 billion, significantly narrowing from the CNY8.3 billion loss in the year-ago period.
The carrier reported a 78% increase in quarterly revenue to CNY22.2 billion – also on the back of traffic recovery – while costs for the quarter rose about 25% year on year to CNY27.2 billion.
The SkyTeam carrier reported a net loss of CNY3.8 billion, compared to the CNY7.8 billion loss a year ago.
China Southern, meanwhile, was about CNY1.5 billion in the red at the operating level. This compares to the CNY5.9 billion loss it reported in the year-ago period.
The Guangzhou-based carrier saw revenue increase 59% year on year to CNY34 billion, while quarterly costs rose about 30% year on year to CNY36.6 billion.
China Southern also shaved off its net losses, at CNY1.9 billion compared to CNY4.5 billion in the year-ago period.
The latest financial results come weeks after the three carriers posted record losses for the 2022 financial year, as China's strict 'zero-Covid' policy torpedoed travel demand.
Since the start of this year, much of the pandemic-related curbs have eased, leading to a rebound in domestic and international traffic.