While China's three largest carriers are set to remain loss-making for 2023, a HSBC Global Research report predicts "record" profits in 2024 with the easing of several challenges such as overcapacity.
The report, issued on 1 November, says lower oil prices, reduced Chinese Yuan depreciation pressure, as well as a restoration of international capacity, will help push the 'Big Three' – comprising Air China, China Eastern Airlines and China Southern Airlines – firmly back into the black.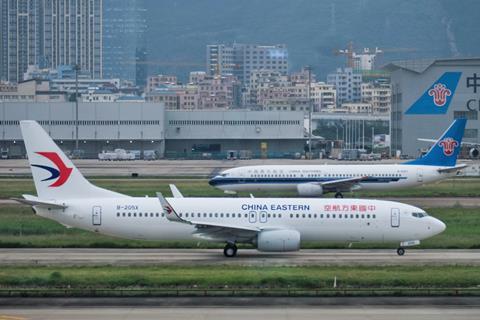 In particular, the report says a "faster-than-expected" restoration of flights between the USA and China is a "key catalyst" for international recovery.
This in turn will ease overcapacity on the airlines' domestic networks. HSBC notes that while the three carriers' domestic capacity now stands at 9% higher than pre-pandemic levels, passenger volumes are only 3% higher.
"Going forward, a further ramp-up of international flights would dilute unit cost, tighten capacity and airfares in domestic routes, and thus boost EBIT margin for the 'Big Three'," the HSBC report states.
The report comes days after the trio disclosed their earnings for the nine months to 30 September, which saw a dramatic narrowing of operating losses for Air China and China Eastern, as well as a return to profitability for China Southern.
The three carriers cited strong travel demand, as well as higher fares for an improvement in their earnings.
However, the HSBC report points out that the fourth quarter of the year will see weaker travel demand, and lower fares. It adds that a rise in oil prices and foreign exchange headwinds "underscores sequentially lower earnings" for the quarter.