China Eastern Airlines expects Boeing 737 Max deliveries to resume from 2023 — even while it works with the airframer to return the aircraft to service.
It is also the first possible indication of the fate of the 737 Max order book in China, a major market where the type remains grounded.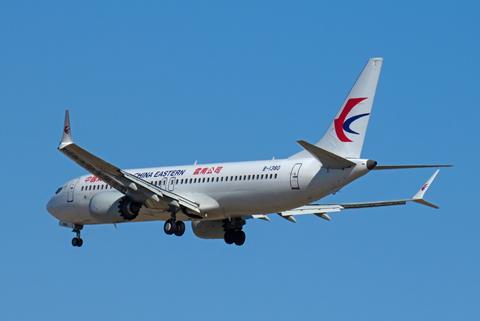 In fleet plans disclosed as part of its full-year results for 2020, China Eastern indicates it expects to introduce 46 Boeing 737 aircraft in 2023.
While it did not state the variant to be introduced, the carrier had previously disclosed in its 2019 annual results that it expected to take up to 46 737 Max aircraft between 2020 and 2021, but that these had to be deferred indefinitely following the type's global grounding.
China was the first in the world to ground the type in 2019 following two fatal crashes, and remains one of the few major 737 Max markets to uphold the flight ban.
Compatriot Air China, meanwhile, appears to be taking no 737 Max aircraft in the near-term. In its fleet update, the Beijing-based carrier, which also operates a large number of 737-800 and -700s, says it will not be introducing 737s from 2021 to 2023. Instead, it will retire 20 737s over the three year period.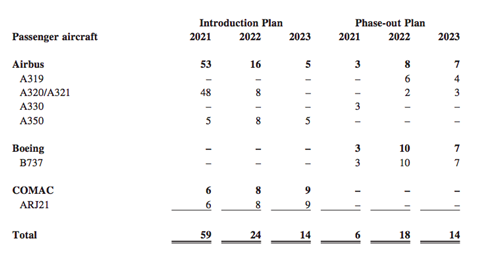 Air China itself operated 16 737 Max 8s, and has another 13 on order. Shenzhen Airlines, which the carrier has a majority shareholding in, has another 10 examples on order, and five in storage, according to Cirium fleets data.
MIXED PICTURE ON FLEET PLANS
China Southern did not disclose its fleet data in its full-year report. The carrier has, however, stated that it took a hefty impairment charge on the early retirement of "obsolete aircraft and some aircraft with high operating costs". It did not provide specifics about the retirements.
China's 'Big Three' slipped into the red in 2020, as the coronavirus pandemic punished their profitability.
Air China, which expects a slower-than-expected recovery in international travel, discloses that it "will slow down the introduction of widebody aircraft" into its fleet.
Cirium fleets data shows the carrier to have 17 Airbus A350-900s on order.
In its fleet plan, the carrier appears to have deferred deliveries for its A350s — in its 2019 annual results, it had planned to take five examples in 2020, but only took two A350s last year.
This year, the carrier estimates to take delivery of five examples, two fewer jets than previously disclosed.
Both Air China and China Eastern also appear to have retired more aircraft than initially forecast, and will continue to do so in the near term.
China Eastern, for instance, forecast in its 2019 annual results that it would retire a single Airbus A320 family aircraft in 2020. A year later, its 2020 results report indicates the carrier phased out 11 aircraft.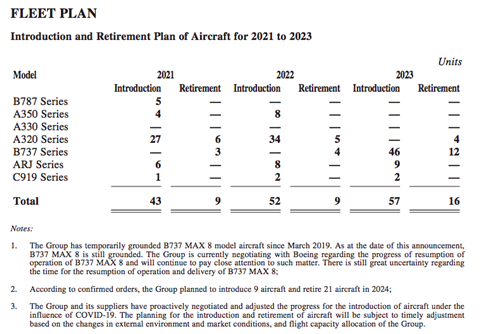 The SkyTeam carrier also increased the number of aircraft it plans to retire this year, from six aircraft stated in its 2019 report, to nine aircraft a year later.
It also revised upward the number of expected deliveries for the year to 43 aircraft — including the world's first Comac C919 narrowbody — instead of 13 as previously forecast.
Air China increased the number of aircraft to be retired this year — from one aircraft to six — including three A330s.
In 2022, the Beijing-based carrier now expects to retire 18 jets, up from 10 examples previously disclosed. The increase mainly comes from more A319s and 737s taken out of service.