Air India is forecast to widen its full-year net loss to Rs97.8 billion ($1.35 billion), even as the Indian government reiterated its support for the long-drawn divestment of the national carrier.
Civil aviation minister Hardeep Singh Puri disclosed the figure in a parliamentary response on 25 March, where he said that the coronavirus outbreak has "worsened the financial position" of Indian carriers, including that of state-owned Air India.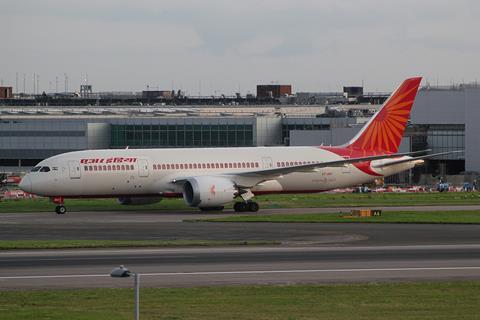 The net loss forecast for the year ended 31 March 2021 compares with the carrier's net loss of Rs80 billion for the previous financial year.
He notes that hte airline has taken a number of measures to reduce costs, including unpaid leave and closure of some foreign stations.
The Indian government provided no equity infusion in fiscal 2020/2021, instead providing a guarantee support of Rs9.6 billion to the ailing carrier, which was used to raise new working capital loans. The government also extended aircraft bridge loans for the carrier.
On the carrier's divestment, Puri reiterated that the government has received multiple expressions of interest, details of which were still confidential. He adds that once the bids were evaluated, qualified bidders will be contacted in relation to the next step of the transaction.
"The government is committed to the disinvestment of Air India. The disinvestment of the airline will bring private investment, robust management and faster decision making processes which will improve the efficiency of the airline and build a viable and vibrant Air India," says Puri.
The minister was also asked about the impact of the coronavirus outbreak on the broader Indian aviation industry. He disclosed that the combined losses of Indian carriers in the April-December 2020 period is estimated to be around Rs160 billion.
India battled a rapid spike in coronavirus cases during the period, as the country entered into lockdown in an attempt to curb the virus' spread. Consequently, domestic air traffic plunged by more than two-thirds year on year, to just 30 million passengers during the nine-month period.
Since May, India has progressively restored domestic air services. Currently capacity stands at 80% pre-pandemic levels, states Puri.