Air France-KLM is seeking clarity on plans for new airport capacity in Lisbon, as it considers its involvement in the privatisation of flag-carrier TAP Air Portugal.
Years-long discussions about a new facility to serve Portugal's capital city are yet to yield a firm plan, leaving the single-runway Lisbon airport congested. Reports suggest a commission is due to propose plans and a location for a new airport by the end of this year, including measures to alleviate capacity constraints in the interim.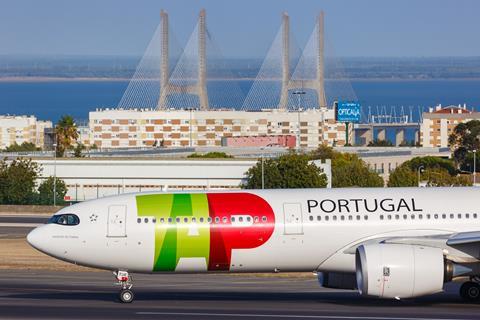 "We're very interested to see what the next official view is on the new airport or reliever airport," said Air France-KLM chief executive Ben Smith during the group's third-quarter earnings call on 27 October.
"That will be something that all three potential bidders, that we know of, would insist on having," he adds in reference to Air France-KLM, Lufthansa Group and IAG.
He made the comments when asked about potential regulatory remedies that might accompany an investment in TAP.
"That would play a major role in how the regulatory bodies would look at such a transaction," he says of the capacity situation in Lisbon.
When approving merger and acquisition activity among airlines, regulators are more likely to mandate draconian slot remedies in markets where opportunities for competitor expansion or new market entrants are restricted by airport capacity.
Such mandates have the potential to undermine the business case for M&A moves.
Slot remedies were also a condition attached to several airline state-aid approvals from the European Commission during the Covid-19 pandemic. In TAP's case, budget carrier EasyJet acquired 18 of its daily slots at Lisbon in 2022, as part of remedies required under a €2.55 billion financial restructuring scheme.
Portugal's Council of Ministers in late September approved a decree to formally launch the re-privatisation of TAP Air Portugal, under which it plans to sell at least a 51% stake in the national carrier.