Emirates Airline chief Sir Tim Clark has repeated his call for Airbus to develop a re-engined A380neo, believing the addition of a next-generation powerplant could deliver fuel-burn savings of up to 25%.
Clark, speaking at the Paris Air Forum on 16 June, pointed out that the engines currently equipping its A380 fleet – both the Engine Alliance GP7200 and Rolls-Royce Trent 900 – were "designed in the 1990s".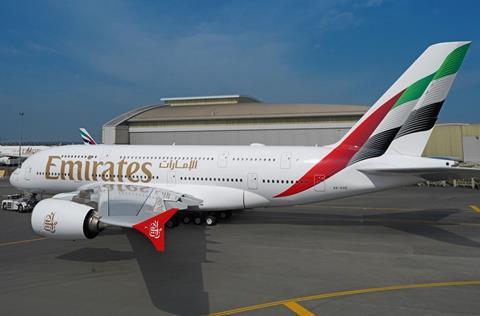 He highlights the performance benefit an engine like the Rolls-Royce UltraFan could bring to the double-decker: "It would give us a 25% reduction in fuel burn and emissions on the A380," he says, "that's startlingly good."
Rolls-Royce ran its UltraFan demonstrator for the first time on 24 April and sees the architecture as having potential to equip future single- and twin-aisle aircraft requiring between 25,000lb (111kN) and 100,000lb of thrust. The Trent 900 is rated at 84,000lb.
Clark says the A380 remains popular with passengers. Last week it had 87 of its 116-strong fleet in service operating with an 82% load factor.
He says a new A380 using UltraFan engines would "give a step-change" in fuel-burn performance.
Other aerodynamic improvements to the design and a switch to a high-wing configuration – to accommodate the large fans on the UltraFan – would also need needed, he adds. "I have done a lot of soul searching on how it would look," he says.
"I know it's flying a kite but I am trying to get people thinking," he says, arguing that an ultra-high-capacity aircraft will be the only solution for slot-constrained airports bearing in mind forecast future passenger growth.
However, Clark's pleas are falling on deaf ears at Airbus: "They always laugh at me," he says. "I'm the outlier – but I'm simply saying what I know to be the case – they may choose not to deal with that."
Digital design improvements and changes in material technology since the all-metal A380 was first conceived "should give [Airbus] a fighting chance of producing something really interesting", he adds.