Chinese airframer Comac has reportedly opened a support office in Indonesia, its first overseas location, as a second C919 joins China Eastern Airlines.
The Jakarta office of Comac's service unit – Shanghai Aircraft Customer Service (SACSC) – was opened on 31 July, according to media reports from Indonesia.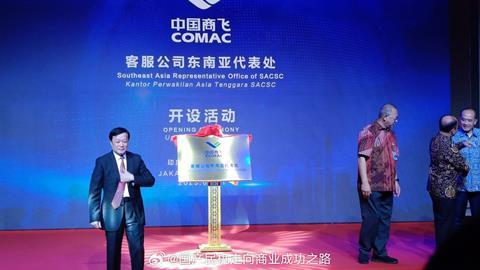 State news agency Antara indicates that the opening was attended by the secretary general of Indonesia's Ministry of Manpower, Anwar Sanusi.
"Hopefully this cooperation will develop and be mutually beneficial to develop the aviation sector in Indonesia," said Sanusi.
Another news outlet, Kompas, indicates that Comac director He Dongfeng attended the opening. He reportedly said that Indonesia was selected as Comac's first international office location owing to local carrier TransNusa's operating of two ARJ21s.
Comac director He also indicated an ambition to sell the C919 in Indonesia.
The Kompas article indicates that the ARJ21 has operated over 762h in Indonesia and has carried 270,000 passengers.
Comac's Chinese and English websites, as well as its social media channels, made no mention of the office opening.
Indonesian carrier TransNusa is the first foreign operator of Comac's ARJ21 narrowbody, launching services with the type in April. The carrier mainly uses the aircraft on domestic services in Indonesia, and recently started operating the type's first international route, between Jakarta and Kuala Lumpur.
Cirium fleets data indicates that the carrier has two ARJ21s in service, with 28 more on order. Both aircraft are leased from China Aircraft Leasing (CALC).
While ostensibly an Indonesian airline, TransNusa has significant Chinese backing. In January 2021, CALC said it had placed an order for 30 ARJ21's with TransNusa, in which CALC and two senior executives hold a 49% stake.
Stock exchange filings show that CALC holds its stake in TransNusa via Aviation Synergy (Caymen), which in turn owns Naga Pacific Holdings, which has a 49% stake in TransNusa.
CALC chief executive Mike Poon is also listed as holding 14.1% in Aviation Synergy, and deputy chief Winnie Liu 13.1%.
Separately, a second C919 has entered commercial service with launch customer China Eastern. The aircraft, bearing registration B-919C, commenced services on 2 August and is used on the Shanghai-Chengdu route.
After years of delays, the C919 entered revenue service in late May.