Norway's competition regulator has notified Norwegian that it is considering blocking its planned acquisition of domestic carrier Wideroe.
Norwegian outlined plans in July to acquire Wideroe for NKr1.13 billion ($105 million) and hoped to close the transaction by the end of this year.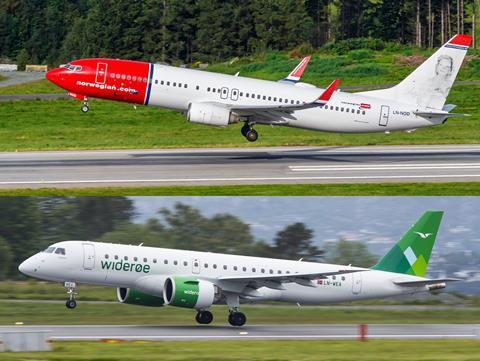 However Norwegian competition authority Konkurransetilsynet in September said it was probing the deal and, in an update today based on its initial assessment, says it still fears competition in Norway will be weakened if Norwegian is allowed to buy Wideroe
It has newly notified Norwegian that it is considering banning the acquisition, detailing its competition concerns.
"The acquisition leads, among other things, to us going from three to two players on several domestic flight routes," says competition director Tina Soride. "We see that there is a real risk that competition in the market could be weakened in a way that leads to higher ticket prices and worse route offers for Norwegian air passengers."
In particular it highlights the routes where the two carriers currently compete against one another. This covers direct competition on routes like Bergen to Stavanger and Trondheim, as well as indirect routes operated via Oslo.
Alongside the potential for higher fares and worse competition where the two carriers compete, the authority also flags a risk of more expensive ground services for competing companies at airports. The authority notes that, while Norwegian has proposed remedial measures linked to ground services, it does not consider these sufficient to approve the acquisition.
It says the parties have until 8 December to respond to its preliminary assessment, ahead of issuing its final decision on 3 January.