The Australian Competition & Consumer Commission (ACCC) has raised several concerns about Qantas' proposed acquisition of Alliance Aviation.
It notes that both carriers provide transport services to remote areas for corporate customers, competing in Australia's "fly-in fly-out" business for resources workers. ACCC has issued a "statement of issues" following consultations with other industry participants.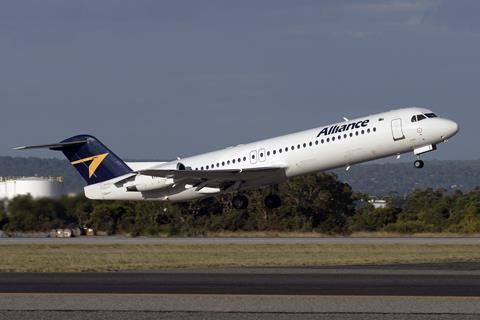 "We are concerned that this proposed acquisition is likely to substantially lessen competition for air transport services to and from regional remote areas in Queensland and Western Australia for corporate customers," says ACCC chair Gina Cass-Gottlieb.
"This merger would combine two of the top three operators of air transport services in Queensland and Western Australia. Industry participants have express strong concerns about the impact of this proposed acquisition on air transport services, particularly to regional and remote areas."
In May, Qantas announced that it would acquire the 80% of Alliance Aviation that it does not already own for A$614 million ($588 million). Should the deal go through, Alliance will become a subsidiary of Qantas.
The ACCC is also concerned that the acquisition will eliminate competition on the Brisbane-Moranbah route, where Alliance is Qantas's only competitor.
More broadly, ACCC frets about the proposed acquisition's impact on Alliance's wet-lease business, which provides medium-sized aircraft to other carriers. Wet-leased aircraft, it says, are key for new competitors to open new routes and increase capacity on a temporary basis.
"Our preliminary view is that there are already significant barriers for airlines who want to enter or expand their operations in regional and remote areas, including access to pilots, airport facilities, and infrastructure, and associated regulatory approvals," says Cass-Gottlieb.
"The removal of Alliance as a supplier of wet-leases or the increase in price of wet-leases for Qantas's competitors is likely to significantly increase these barriers."
The ACCC invites concerned parties to provide feedback by 1 September.
ACCC'S ISSUES OF CONCERN WITH QANTAS'S PROPOSED ACQUISITION OF ALLIANCE
Reduction in competition for air transport services to regional and remote locations
Increased prices/decreased service levels for services on Brisbane-Moranbah route
Reduction of competition owing to removal of Alliance's wet-leasing services
Qantas, for its part, believes the acquisition will not lessen competition.
"Australia has one of the most pro-competitive aviation industries in the world, as shown by the post-COVID expansion of carriers domestically and growth in the resources sector itself," says Qantas executive John Gissing in a separate statement.
"There are a significant number of charter operators of different sizes and that makes it an extremely competitive segment. We're confident our acquisition of Alliance does not substantially lessen that competition and we'll work through the ACCC's process to support that position and address their initial concerns."
He adds that the fly-in fly out customers have vast resources and strong procurement capabilities, which gives them negotiating leverage with airlines.