Spanish electric aircraft developer Dante Aeronautical intends to fly its first prototype within three years – a Cessna Grand Caravan converted to use both hydrogen fuel cells and battery power – in a project also involving regional carriers Air Nostrum and Volotea.
Under its plans, the aircraft will use the fuel cell system during the cruise, complemented by batteries for the take-off and climb phases.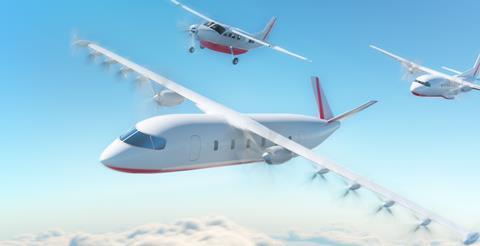 Dante believes that it can secure supplemental type certification for the modification to allow service entry in 2024 or 2025.
While the identity of the battery and fuel cell suppliers have not been disclosed, the programme builds on work the company is carrying out for Australian operator Sydney Seaplanes, which sees the installation of batteries and a Magnix Magni650 electric motor on a Caravan amphibian.
"As we are using a common platform with the same electric motor both developments should share multiple common elements, therefore benefiting from each other," says Dante.
Projections suggest missions above 107nm (200km) with nine passengers on board will be achievable, the company says, although initial services may begin with less range or payload.
Air Nostrum, via its engineering and maintenance unit, will perform the conversion work on the prototype, while Volotea will provide the aircraft and support flight tests.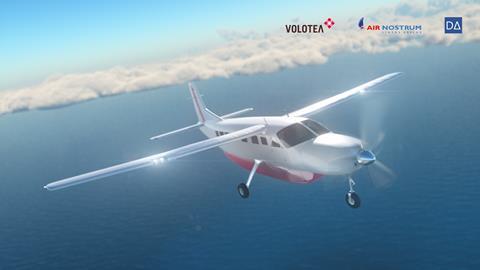 Dante has applied to Spain's CDTI agency for research and development funding for the initiative.
Also involved in the project are other Spanish entities such as artificial intelligence specialist Databeacon, consultancy CT Engineering and national research bodies CIDAUT (transport and energy) and CIDETEC (energy storage).
"We started our collaboration with Dante Aeronautical back in 2019 and are very proud to see how the project has grown and gained momentum with the support of new partners, including several Spanish technology companies," says Carlos Munoz, Volotea founder and chief executive.
"The development of an electric aircraft using hydrogen battery technology will reduce carbon emissions. It makes complete sense for Volotea to support this project since it's completely in line with our goal of connecting underserviced cities and doing so in ways that are more sustainable."
Carlos Bertomeu, chief executive of Air Nostrum, adds: "As a leading regional airline, Air Nostrum clearly had much to contribute to this exciting project, especially in regards to sustainability, which is something that we have been working on for many years."
Dante also has plans for an all-electric 19-seater conversion, "with two or three options" under consideration. But ultimately it plans to develop a clean-sheet aircraft called the DAX-19, which will arrive by the end of the decade.