IATA director general Alexandre de Juniac believes the new guidelines developed by an ICAO task force strikes "the right compromise" between airline economic concerns and the safe restart of passenger traffic.
An ICAO task force has published wide-ranging recommendations on measures to support the return of international air travel following the coronavirus grounding.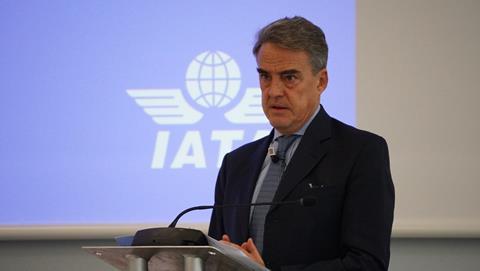 ICAO stops short of requiring airlines to leave middle seats vacant to enable social distancing on flights, but suggests that carriers "should allow for separated seating arrangements when occupancy allows it".
IATA was among a range of bodies ICAO's task force consulted with in drawing up the guidelines and has called for governments to rapidly implement the recommendations.
"The purpose of the guidelines….is to provide a safe process to minimise the risk of transmission of the virus onboard and the transmission of the virus between country A and country B - the country of departure and the country of arrival," said de Juniac, asked during a joint media conference with ICAO today whether it would be safer to leave seats empty.
"And what we say is that implementing this process minimises the risk and it doesn't impose to neutralise seats onboard provided we strictly comply with the process that has been recommended - for instance temperature controls, mandatory wearing of masks etc," he adds.
"We have explained that for economic reasons neutralising a seat would lead to either airlines not to fly or for them to increase prices by at least 45% to 100% depending on the configuration of the aircraft. So [this is] the reason why we think the right compromise is to have reasonable economic conditions and absolutely safe processes to guarantee the safety of our passengers and of our airworkers."
De Juniac believes the new guidelines should provide "great confidence" the air transport sector will restart responsibly. And he believes these should quickly be implemented.
"Countries are ramping up domestic operations and many are preparing to open their borders, so these guidelines need to be in place quickly, so that we can safely meet the demands of those who need to travel when its possible to do so," he says.
"The implementation needs to be harmonised. We need to implement the take-off guidelines in the same way. The alternative of an unco-ordinated implementation, is simply not thinkable or acceptable."
While the task force recommendations are not mandatory, ICAO president Salvatore Sciacchitano believes they will be widely adopted. "The council that adopted the reports is composed of representatives from 36 member states, so in this sense I am very confident that the guidelines will be implemented," he says.
The wide-ranging recommendations also include measures to reduce risk at airport, for example targeting physical distancing of "at least" one metre between all individuals.
Asked about the potential impact on journey time through airports, Angel Gittens, director general of Airports Council International - which has also backed the guidelines - says much will depend on the volume and layout of each airport.
"At a large airport with low volume, there should not be much more time needed for the passenger to come to the airport, to keep the physical distancing and other requirements. At a smaller airport, or an airport that has peaking, I would say it's going to be another hour, even two hours, for the passengers to come to the airport."
But she adds: "It's very important that these measures take into account of the changes in volume. Some of these things are not sustainable as volumes increases at a particular airport, and that volume depends on the peaking characteristics and the layout of the airport."