IATA director general Willie Walsh believes a more cautious approach to network expansion from airlines battling to restore balance sheets ravaged by the crisis may mean capacity falls short of demand as travel restrictions are lifted.
While passenger traffic figures for May issued by IATA today showed only a small improvement over April date - traffic as measured in RPKs was down 63% on 2019 levels rather than the 65% reduction in April - there has been some reopening of travel markets since June and growing optimism for the second half.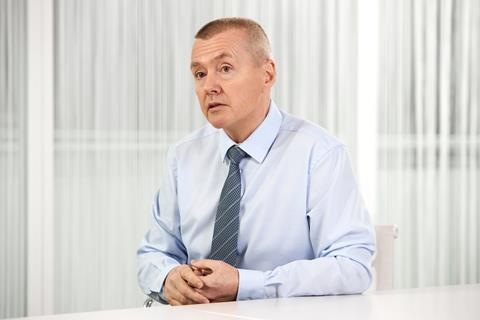 Speaking during an IATA media day today Walsh said: "I think the evidence in terms of airline schedules supports the view that airlines certainly believe that demand is increasing, and as we are seeing evidence of restrictions being removed in certain countries, there is a greater willingness to travel."
He also points to signs that even where restrictions remain in place, people are less discouraged from travel if there is no requirement to quarantine at their destination, even if they may have to on their return home.
"We are still optimistic but cautious about the second half," Walsh says.
But he believes a legacy of the extra debt airlines have had to take on during the crisis - and with much of the industry still burning cash - is carriers are likely to adopt a more cautious approach to returning capacity.
"If you get the timing of your increase in network wrong, your costs are going to significantly increase because that cash-burn reflects the fact that in many cases airlines are not paying for fuel, and they are not paying for all their labour costs because there are support schemes in place. All of those costs are going to come back very quickly," Walsh explains.
"And you don't have the traditional sales in advance of carriage," he says, noting passengers are waiting until they know markets will reopen before booking.
"You are going to see a disconnect between the cash coming in, and the cash going out, and this I think is where airlines are going to have to be very cautious. It is very different from what we have seen in the US."
Some carriers in the USA were in June forced to cancel flights as they operationally struggled to meet the sharp ramp-up in demand.
"Clearly what we have learnt is that demand can come back quicker than anticipated," Walsh says, when asked about learnings from the US experience for the wider industry.
But he differentiates between the US situation, where a single decision drove an immediate restart of a major market, with other regions where there are multiple actors involved in reopening markets.
"If you look at the EU, you have a lot of decision-makers. So I think you are going to see airline management very cautious about the re-introduction of capacity," Walsh says.
"Getting the timing of capacity reintroduction right is going to be critical and there is a risk the rebound in demand will be significantly bigger than the capacity that comes into the market, and as airlines try to increase their capacity, getting their critical employees back to full competency will take time."
This likely more cautious approach to rebuilding networks plays into the reason why, despite strong air travel demand, Walsh still believes 2023 is the most likely timeframe before traffic will return to pre-crisis levels.
"We have to recognise that a lot of the aircraft that were in the fleet in 2019 have been permanently removed. It will take time for airlines to recover their networks.
"A lot of city pairs that were in the system in 2019 are gone, and for some of them it will be some considerable time before they recover. So I still think recovery to 2019 levels in 2023 is right," he says.
"The industry might be able to accelerate the recovery in capacity faster than that, but I think the appetite to do that is going to be a lot lower than if you looked at what was happening between 2015-19 in terms of network expansion."
IATA in April deepened its forecast for airline net losses in 2021 to $47.7 billion due to the slower-than-hoped-for recovery in air travel from the pandemic. IATA will update this outlook in October at its annual general meeting in Boston.
Walsh, while noting he would have taken a more "optimistic" view than that of IATA's then chief economist Brian Pearce - who retired in June - says that it has been a case of "swings and roundabouts" since that forecast.
"We have seen some markets open faster than we expected, and some opening slower," he says, citing for example the slow reopening in Asia-Pacific.
"The evidence is long-haul into Asia is definitely going to lag what we expected there given the risk-averse approach of governments there, though we are seeing evidence of some change there. Singapore, for example, is making comments about the need to live with the virus.
"If it is going to change, I don't think its going to change significantly," suggests Walsh. "At this stage, you could take the forecast ss sensible, plus or minus a little bit."