As airlines brace for the expected peak of air travel during summer 2023 in the northern hemisphere, US Transportation Secretary Pete Buttigieg is pressuring carriers to avoid the congestion and confusion that marred airports during recent passenger surges.
"As travel increases this summer, DOT will use our authority to hold airlines accountable for taking care of passengers," he says 4 April on social media. "We'll work with them, where appropriate, to reduce cancellations and delays – including reducing congestion in the New York airspace."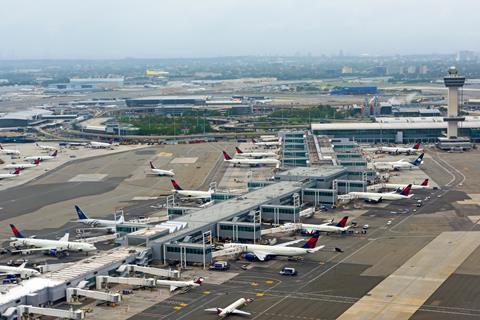 Under Buttigieg, the DOT has assumed a hawkish position when it comes to airline oversight as carriers have struggled to meet demand surges during busy holiday weekends.
Last summer, thousands of flights were cancelled due to staffing shortages and operational failures, prompting Buttigieg to blast the airlines' performance as "unacceptable" and demand that airlines develop "better plans to improve services provided to passengers when their flights are cancelled or delayed because of an airline issue".
But some carriers pushed back, attributing operational troubles partly to staff shortages at the FAA's air traffic control organisation.
Ahead of the busy Labor Day weekend in September 2022, the DOT rolled out a consumer dashboard summarising customer-service policies of specific airlines, including policies related to seating family members together and to how airlines accommodate passengers affected by airline-controlled flight delays and cancellations.
More recently, Buttigieg touted preliminary figures from the FAA showing that US airlines cancelled 1.4% of their flights in March – "one of the lowest [rates] we've seen in the past year," he says.
Less than 2% of US flights were cancelled during January and February, Buttigieg adds, compared with a recent high of 4.5% in December 2022 – when Southwest Airlines' catastrophic operational meltdown resulted in the cancellation of some 16,700 flights during the peak of winter holiday travel.
To relieve anticipated congestion in the Northeast USA this summer, the FAA recently took the unusual step of allowing carriers to temporarily vacate some allocated take-off and landing slots at major hubs without risking losing them to competitors.
In doing so, the FAA conceded its air traffic control arm is understaffed, particularly in New York, where the FAA warned it will struggle to "provide expeditious services".