Air New Zealand swung to a pre-tax profit of NZ$585 million ($349 million) during its 2023 financial year from a pre-tax loss of NZ$725 million a year earlier.
Revenue for the 12 months ended 30 June more than doubled to NZ$6.4 billion, according to Air NZ's annual results.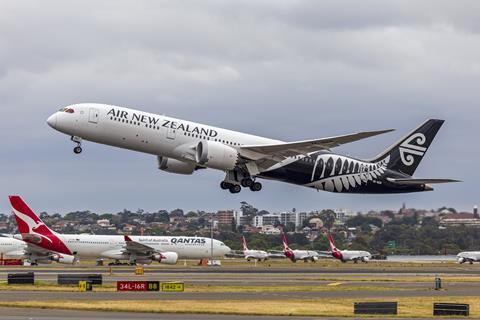 The carrier says that demand for air travel has exceeded expectations. During the 2023 financial year, domestic bookings reached pre-pandemic levels, while international bookings hit around 86% of pre-pandemic levels.
The carrier also swung to a net profit of NZ$412 million, compared with a net loss of NZ$591 million a year earlier.
"The financial year began as borders were still reopening and aircraft were stored in the desert, and ended with the airline at 94 percent of pre-Covid domestic capacity," says Air NZ.
"Having restored its international network, the airline carried out the biggest recruitment drive in its history and returned all aircraft to the skies."
Releasing traffic figures for its 2023 financial year, the carrier highlighted the strength of the recovery. Passengers carried during the year came to 15.8 million, double the number in the previous corresponding period, and 11% below pre-pandemic levels.
ASKs tripled in the latest financial year, while RPKs rose fourfold. Load factors increased 17.6 percentage points to 84.7%.
The carrier's international recovery was particularly strong, with passengers carried jumping nearly ninefold to 1.5 million and ASKs growing nearly fivefold and RPKs nearly eightfold.
CASK, however, was also higher, up 40.2% from pre-pandemic levels, largely due to fuel price movements. The airline also cited "other inefficiencies associated with ramp-up productivity."
Cargo revenue for the year came in at NZ$628 million, down 38% from the previous financial year but up 61% from pre-pandemic levels.
The airline's cash position also improved in the 12 months to 30 June, rising 24% to NZ$2.2 billion.
"Looking ahead to the first half of the 2024 financial year, customer demand remains strong across our markets," says Air NZ.
"We are mindful of the uncertain economic environment however and acknowledge there are a number of factors that may impact future customer demand and profitability. These factors include increased international competition, volatile fuel prices, a weaker New Zealand dollar, ongoing wage inflation and increased airport charges."