EasyJet has cancelled around 1,700 flights from its summer schedule, blaming European airspace and air traffic control (ATC) challenges.
The number of cancellations made by the low-cost carrier is roughly equivalent to one day's worth of flying during the summer season, it said on 10 July.
Most of the cancellations involve the "consolidation" of flights at London Gatwick airport for destinations that have multiple daily frequencies, the airline says.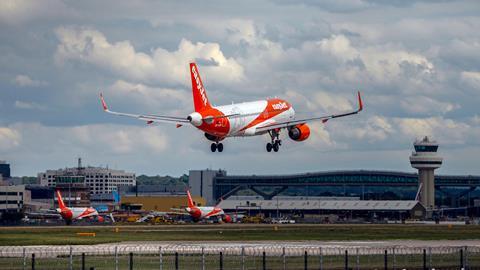 The moves comes after industry bodies including IATA and Airlines for Europe, and airline executives including EasyJet chief executive Johan Lundgren, warned in recent months that ATC was a risk factor for European aviation during the summer peak season, potentially putting a ceiling on capacity. They cited constrained airspace relating to the war in Ukraine and the lack of Russian overflights, and strike action among air traffic controllers, notably in France.
Ryanair said earlier this month that the cancellation of 900 flights in June was largely a result of the French strike action.
The ATC situation could worsen if staff at Europe's network manager, Eurocontrol, strike as planned in the coming weeks. The action would involve employees from the body's Network Manager Operations Centre, which helps to coordinate Europe's airspace.