EasyJet has called for key stakeholders to assess how much capacity individual UK airports can handle in the coming months, according to the airline's chief executive Johan Lundgren, as the industry seeks to overcome the operational disruption being seen in some markets.
Representatives from the UK air transport industry met with government officials in recent days to discuss solutions to the cancellations and delays being seen at airports, which most stakeholders blame on a list of issues led by staffing shortages at key points in the air travel chain.
"The proposal that we have made to the UK government and the regulator here is to really pin this down on an airport basis, where there can be a coordination on the level of traffic that we believe we can really handle," Lundgren said on 7 June during a Paris Air Forum debate.
"It's important to take a very sober view on what the summer has in front of us and how we're going to cope with that."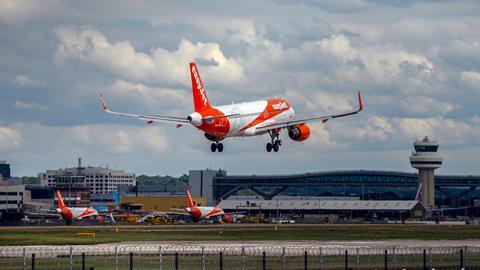 Challenges created by staff shortages are being exacerbated by the UK's rapid shift from tight border restrictions to a full reopening in recent months, Lundgren notes. In the case of EasyJet, capacity is expected to reach around 90% of pre-crisis levels in the second quarter.
While EasyJet is seeking 'bigger resilience' within its own cabin crew workforce, staffing shortages are combining with other factors such as air traffic control flow restrictions, Lundgren says, causing aircraft and crew to be displaced and the latter to run out of hours.
"It is so clear that this industry is so much depending on each other," he states. "To sit and point fingers at each other will not solve the problem."