EasyJet continues to back hydrogen as the budget carrier's most likely future fuel, having quietly shelved interest in all-electric short-haul aircraft as part of its decarbonisation plan.
The UK airline in September last year published its roadmap to achieve net-zero carbon emissions by 2050 and sees next-generation propulsion technology as playing a core part in that effort.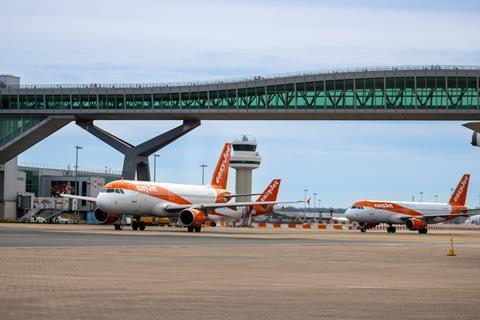 David Morgan, EasyJet chief operating officer, says the carrier's views have evolved considerably since it first outlined its carbon-reduction plans in 2016.
Back then, it saw considerable potential for battery-powered aircraft, signing a collaboration agreement with US firm Wright Electric and eyeing all-electric flights of around 300nm (555km) with 180 passengers by 2027.
But, says Morgan, the airline has "become a lot wiser" in relation to the prospects for battery-electric propulsion, leading to the realisation that "batteries will not be powering EasyJet-sized aircraft of the future".
Instead, the operator is placing its focus on hydrogen, and is using funds previously allocated to carbon offsetting to bankroll development activities.
Working with Rolls-Royce, tests were carried out in November 2022 of a modified AE 2100 turboprop engine burning gaseous hydrogen as a concept demonstrator.
Morgan declines to say how much it has sunk into the five-year Rolls-Royce programme – which as a next step will ground test a Pearl 15 business jet engine running on hydrogen – but describes it as a "multi-million investment".
"We felt that the right transition was to start investing in technology that will turn us into a true net-zero airline," he says.
Although Wright Electric still has ambitions to develop an all-electric 186-seater for service entry by 2030, Morgan confirms EasyJet's interest in the business is now confined to its development of high-power electric motors – but it is not providing any funding. "We encourage innovation of any kind," he adds.
Additionally EasyJet is working with both Airbus and Cranfield Aerospace Solutions (CAeS) on their respective hydrogen-propulsion programmes, in both cases supplying operational and network expertise.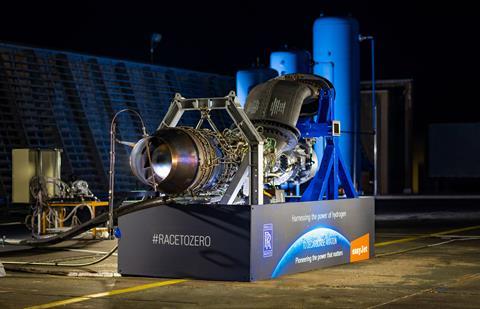 Under its Project Fresson initiative, CAeS is converting a nine-seat Britten-Norman BN2 Islander to run on fuel-cell power, seeking service entry from 2026; it subsequently hopes to develop a clean-sheet hydrogen-powered 19-seater to arrive towards 2030.
Other developers like Universal Hydrogen and ZeroAvia hope to convert 70-80-seat regional turboprops to run on fuel cells from the middle of the decade, but Morgan sees only limited interest for EasyJet in adopting aircraft with less capacity than the Airbus A319, the smallest jets in its fleet.
"Narrowbodies dominate that market for a very good reason," he says. Aircraft with 150-200 seats are "what works well for moving large numbers of passengers over European-type distances".
In contrast to other airlines, sustainable aviation fuel (SAF) only plays a small part in EasyJet's decarbonisation roadmap, which states that it will "use SAF as required, until its fleet has been transitioned to zero-carbon-emission aircraft".
In essence, EasyJet will use the fuel where it is forced to do so, with France the only country so far to have introduced a SAF mandate. It has secured the necessary SAF volumes for the next five years, Morgan adds.
A recent report from Sustainable Aviation suggested that 14% of the UK aviation industry's carbon emissions reductions by 2050 will come from demand reduction as the higher costs of future technology deter people from flying.
But Morgan stresses that demand management "is not part" of EasyJet's strategy: "I think we can remain competitive and decarbonise without charging high ticket prices."
However, he calls for government incentives to ensure those airlines taking a lead on carbon-reduction investment "aren't being disadvantaged".
Other elements of EasyJet's net-zero roadmap include fleet renewal, operational improvements and airspace modernisation, with a small percentage of residual emissions dealt with through carbon-capture technology.
This article has been edited to correct the Islander's passenger-capacity figure in the 12th paragraph.

Dominic Perry is deputy editor of Flight International but also contributes extensively to flightglobal.com. Although specialising in the coverage of the helicopter industry, he has written on most topics in aerospace – be they commercial, defence or business aviation. In addition, there has been an increasing focus on the decarbonisation of the industry and zero-emission flight initiatives.
View full Profile