European transport commissioner Adina Valean is urging EU states to take a bolder approach to introducing long-strived-for modernisation of air traffic management in Europe.
The Commission last September launched a fresh attempt to reinvigorate air traffic reform in Europe, proposing an upgrade to the Single European Sky (SES) regulatory framework to accelerate implementation. This has ambitions to cut the region's air transport emissions by 10%.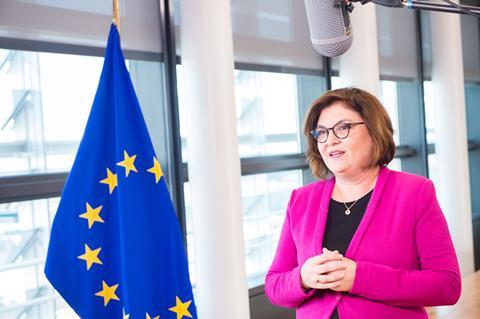 Progress in implementing the SES initiative, which dates back more than 20 years, has long been mired in political deadlock. Previous modernisation proposals from the Commission, SES 2+, were put forward in 2013 but not concluded.
Addressing the Airlines for Europe Aviation Summit on 10 June, Valean stressed how key reforming Europe's air traffic management system could be in delivering on the bloc's wider environmental ambitions.
"I am hearing a lot about the members' talking about sustainability and reducing the footprints of economic activities, and their commitments to it. But it is very frustrating when I see they cannot commit on something which is as simple as a modernising the air traffic management – and I am talking about modernising in an age in which we should talk about innovation," she said.
Valean takes some encouragement from the EU transport ministers' agreeing, earlier this month, a general approach on the Commision's proposals, although she terms it "not ambitious enough".
"I really hope they will take a more bold stance towards this and will do the right thing to support our proposal, which is absolutely needed, not just in terms of [tackling] congestion but also for environmental purposes," she says.
In adopting its approach on 3 June the European Council backed the Commission's objectives for SES reform, but said its position.differed in the best ways to achieve them. Its position outlined a number of amendments in approach. The EU presidency will now launch launch talks with the European Parliament on the final text.
Modernisation of Europe's air traffic management system is one part of the drive for air transport to contribute to wider European decarbonisation targets. Last September the Commission set out its Fit for 55 programme, which targets a 55% emissions reduction, compared with 1990 levels, by 2030.
That includes a review of aviation's role within Europe's emissions-trading system, development of alternative fuels, and is also likely to look at the current exemption of tax on aviation fuel.
"I am of the opinion we have to look at your [aviation] sector as a basket of measures, that we should not bet only on one, and find the right balance between them, not to overlap and double tax," says Valean.
"You have to keep in mind the objective is not to increase the price [of travel], the objective is to decarbonise," she says. "This is something I very well understand and am trying to support an approach in which all the measures will keep in mind this objective, which is reducing the carbon footprint not other intentions."