Embraer signed a letter of agreement with Lanzhou Aviation Industry Development Group for 20 E-Jet passenger-to-freighter (P2F) conversions at the Paris air show on 21 June, in a deal that could see it establish a conversion facility in China.
The agreement is a noteworthy milestone for the P2F programme, which was launched last year and had previously secured one order: 10 units from Irish lessor Nordic Aviation Capital, with Kenyan cargo carrier Astral Aviation later earmarked as the launch operator.
"We are honoured to be the launch customer of the Embraer E-Jet freighters in China," says Chen Zhiqiang, president of Lanzhou Aviation Industry Development Group. "By co-operating with industry-leading aircraft manufacturer Embraer and introducing E-Jet freighters to China, we'll fully leverage our domestic strength and competitive advantages to boost China's air cargo market growth."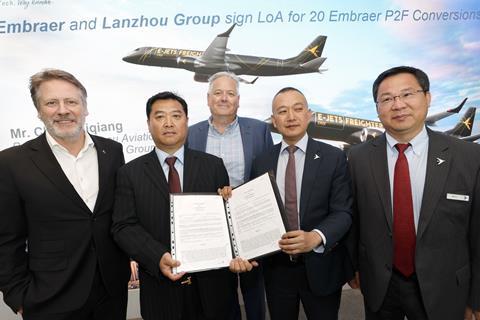 The two parties are yet to define the terms of the agreement, Embraer says, with details such as the aircraft variant – the programme covers E190s and E195s – and the source of the jets still to be established. But the chief executive of Embraer Services & Support Johann Bordais says he envisages aircraft covered by the potential order eventually being converted in China under a "great partnership" for the country.
Embraer is currently working on conversion of the programme's first aircraft in Brazil. It expects the aircraft to be handed over for certification with Brazilian authorities by the end of this year, with jurisdictions such as the USA and China to follow.
Bordais believes this is "the right moment" for the conversion programme, citing the current "sweet spot" created by the hundreds of E-Jets that will become available as feedstock for conversion, alongside the demand for smaller freighters created by the e-commerce sector.
"E-commerce consumers want speed, they want same-day [delivery] and they want frequency," Bordais says. "The only way you can do it is by decentralisation [of freighter networks with smaller aircraft]."
He further suggests many of the Airbus and Boeing narrowbodies that will become available in the coming years as P2F feedstock are too large for e-commerce requirements.
The first E-Jet P2F conversion is taking around eight to nine months, Bordais says, but Embraer expects a three-month turnaround once the programme is established.
Bordais says Embraer has a second aircraft lined up for conversion.