Middle Eastern carrier Emirates is creating a $200 million fund to accelerate research into reducing commercial aviation's carbon impact.
The Dubai-based airline is warning that the sector needs more effective options to decarbonise. Its sustainability fund is focused on engine, fuel and energy concepts.
"It's clear that, with the current pathways available to airlines in terms of emissions reduction, our industry won't be able to hit net-zero targets in the prescribed timeline," claims Emirates Airline president Tim Clark.
"We believe our industry needs better solutions, and that's why we're looking to partner with leading organisations on [research and development].
"Our aim is to contribute meaningfully to practical solutions for the long-term sustainability of commercial aviation."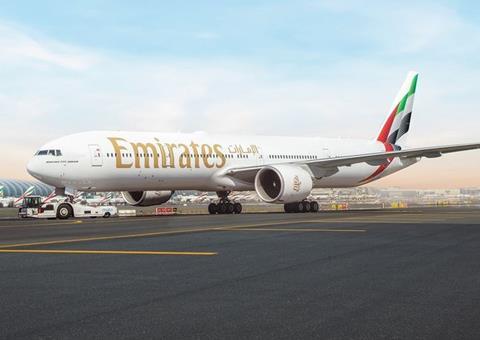 Emirates is "ring-fencing" a $200 million sum to invest in advanced aviation fuel and energy programmes over a three-year span, says Clark, adding that this is where the "biggest impediment" to reducing environmental impact lies.
He stresses that the funds will not be used for Emirates' own operations – such as its sustainable fuel purchases or carbon offsets – but will be put towards partnerships with organisations working on fuel and energy technology.
"Until viable solutions can be found, Emirates will continue to implement environmentally-responsible practices throughout our business," says Clark.
Emirates is involved in a range of initiatives including the use of bio-based sustainable fuel – although it says this remains "extremely limited" in supply – as well as fuel-burn reduction efforts, and modernisation of its fleet. It has also contributed to the United Arab Emirates' development of a power-to-liquid fuel roadmap.