Emirates SkyCargo is seeing strong e-commerce demand in the Asia-Pacific region, and is optimistic about the cargo volume offered by its future fleet of converted Boeing 777-300ER freighters.
Load factors in the region have also been strong, with a surge of demand in the fourth quarter, says Ravishankar Mirle, vice-president cargo commercial operations Far East & Australasia at Emirates.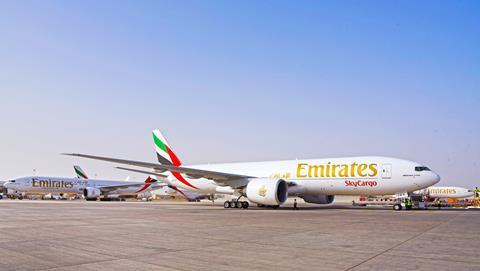 "In the past, it was predominantly about high-tech, pharma, perishables, and a lot of general cargo, but given the uncertainty and the market dynamics right now, and the current business environment, general cargo seems to have flattened out and is on the decline," says Mirle. "The emerging vertical right now is e-commerce."
While demand remains buoyant, there are capacity constraints. Mirle says that if Emirates had more cargo capacity it could secure the loads to fill it. Another challenge in the region is a shortage of skilled manpower at partners such as ground handling agents and at various airports where Emirates operates.
Emirates already has plans to build up its maindeck capacity. Mirle estimates that bellyhold space on the vast Emirates commercial fleet accounts for about 70% of the cargo unit's capacity. The other 30% is provided by 13 dedicated freighters at the carrier's SkyCargo operation: 11 777Fs and a pair of 747-400Fs.
Next year will see the airline receive five 777Fs from Boeing. These will not add capacity, however, as five older 777Fs will exit the fleet.
Capacity growth will come from the addition of 10 777-300ERSF conversions, which will start entering the fleet in 2024. In 2021, Emirates signed up for Israel Aerospace Industries' 777-300ER freighter conversion programme.
Modification work on the big twins is under way in Abu Dhabi, following a 2021 pact between Etihad Engineering and IAI, made possible through the establishment of diplomatic ties between Israel and the UAE in 2020.
The arrival of the 777-300ERSFs will likely see the two leased 747-400Fs depart the fleet.
Mirle is upbeat about the potential offered by the new converted freighters. While their payload is identical to the 777F – a derivative of the 777-200LR – at 102t, the larger size of the -300ER-derived freighters will offer more cargo volume.
"You can take more volumetric cargo, such as e-commerce and flowers from South America or Africa," adds Mirle.
"This will be a big game-changer for us, if you think of the opportunities that will possibly create…you're literally getting about 20% extra volume and the same payload and range. You can do wonders with those kinds of combinations."