Profits at Dubai-based Emirates Group have soared to record levels for the year ended 31 March 2023, hitting Dhs10.9 billion ($3 billion), reversing two consecutive years of pandemic-driven losses.
The profit high compares with a loss of Dhs3.8 billion in the same period a year earlier and was driven by an 81% jump in group revenues to just under Dhs120 billion – an improvement on its previous peak of Dhs110 billion recorded in 2018-19.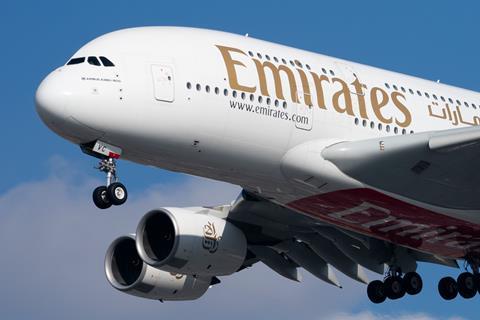 Emirates group chief Sheikh Ahmed bin Saeed Al Maktoum says: "We had anticipated the strong return of travel, and as the last travel restrictions lifted and triggered a tide of demand, we were ready to expand our operations quickly and safely to serve our customers.
"We have delivered a record financial performance and cash balance for our financial year 2022-23. This reflects the strength of our proven business model, our careful forward planning, the hard work of all our employees, and our solid partnerships across the aviation and travel ecosystem."
Emirates Airline operations generated Dh10.6 billion in profit on full-year revenues of Dhs107.4 billion, a margin of 9.9%. That was driven by a more than doubling of passenger numbers versus the previous year to 43.6 million and a 20 percentage point leap in passenger load factor to just under 80%.
Emirates SkyCargo contributed 16% of the airline's revenue despite a reduction in capacity as aircraft that had been temporarily converted for freighter missions were returned to passenger service.
Despite the profits high, the airline notes that currency fluctuations in some of its major markets, notably impacting the euro, sterling, and devaluation of the Pakistani rupee, hit the airline's profitability by around Dhs4.5 billion during the year. Operating costs jumped 57%, including a large rise in its fuel bill – which accounted for 36% of operating costs in the 2022-23 financial year compared with 23% the previous year.
Sheikh Ahmed adds "In 2022-23, we've not only brought back most of our operations but also grown our footprint and capabilities by investing in people, product, and new technologies – demonstrating our agility and ability.
"We go into 2023-24 with a strong positive outlook and expect the group to remain profitable. We will work hard to hit our targets while keeping a close watch on inflation, high fuel prices, and political and economic uncertainty."