Emirates will resume some of its Nigeria services from 11 September, after the country's central bank released a portion of blocked airline revenue from ticket sales.
Emirates said in mid-August that it was suspending services to the country from 1 September because of what it called "our ongoing challenges in repatriating funds from Nigeria", with IATA estimating that the money owed to overseas carriers had risen to $464 million in July and was continuing on an upward trend.
But following the Central Bank of Nigeria's (CBN) announcement on 26 August that it was releasing $265 million to airlines "to settle outstanding ticket sales", Emirates has moved to reinstate services.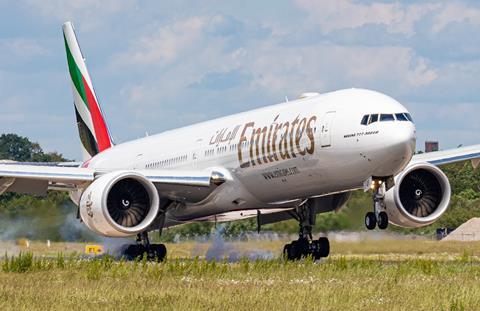 "Emirates welcomes the Central Bank of Nigeria's move to release a portion of our blocked funds, and we continue to engage with the Nigerian authorities to ensure the repatriation of our outstanding and future funds may continue without hindrance," the airline said on 2 September.
"In light of these developments, Emirates will reinstate flights to/from Lagos from 11 September, which is the earliest date for us to co-ordinate the smooth and safe resumption of operations."
Emirates initially appears to be relaunching services to Lagos at a reduced frequency versus its August schedule, while it has not yet indicated when it will resume services to Abuja.
The CBN said airlines and their customers would "heave huge sighs of relief" at the release of the funds, given that other carriers had joined Emirates in "threatening to withdraw their services".
Among those other operators, local reports in late August suggested that Nigerian travel agents had temporarily been unable to sell British Airways tickets, although the UK flag carrier has continued to operate to the country.
It is not clear how the $265 million in released funds is being divided between the carriers serving Nigeria.
At its AGM in June, IATA it said that blocked funds in Nigeria – then around $450 million – accounted for more than 25% of the global total, which stood at $1.6 billion.
The issues with fund repatriation are linked to Nigeria's low foreign currency reserves amid weaker-than-expected crude oil sales.