Estonia's government is to increase the share capital of local carrier Nordica by €30 million ($33 million) to help the airline through the coronavirus crisis – an investment which is conditional on the merger of Estonian aviation assets.
Estonia's economics ministry says the share capital increase is conditional on the merger of state-owned Nordic Aviation Group (Nordica), capacity provider Regional Jet – which is part-owned by LOT Polish Airlines – and lessor Transpordi Varahaldus.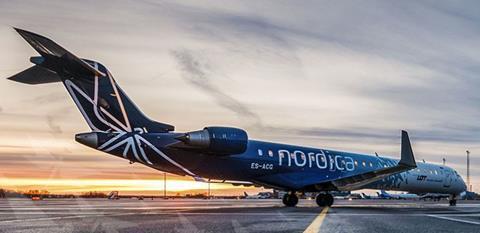 The move is part of a wider €43 million investment by the Estonian government into state-owned transport companies, agreed on 24 April.
Estonian minister of economic affairs and infrastructure Taavi Aas says the increase of share capital in state-owned companies is primarily intended to get out of the crisis as strongly as possible.
Aas says the government also has "high expectations" for Nordica. "In addition to the new business model, Nordica must provide as many direct routes as possible to important destinations in Europe," he says.
The government says a condition for the increase of the share capital of Nordica is the merger of Nordic Aviation Group, Regional Jet and Transpordi Varahaldus. "Nordica must present the new business model to the government within two weeks," the economics ministry says.
Estonia established Nordic Avaition Group, known as Nordica, in late 2015 as a successor carrier after the collapse of Estonian Air. Nordica last October stopped flights under its own brand.
Nordica has though been expanding operations of its capacity provider Regional Jet. The latter, which is 49% owned by LOT, operates flights for a variety of airlines using Bombardier CRJs and ATR 72s. In February it rebranded Regional Jet as Xfly.
Transpordi Varahaldus is an investment entity that manages a fleet of seven CJR900s, which are on long-term lease to Nordica and sub-let to Regional Jet.