Ethiopian Airlines has placed firm follow-up orders for 11 Boeing 787-9s and 20 737 Max 8s, the latter marking its first commitment for Max jets since the fatal accident in 2019 which prompted the global grounding of the type.
The African carrier has also taken options on 21 more Max jets and 15 additional Dreamliners as part of today's order. It has also signed an agreement with Boeing Global Services to upgrade the cabins on its existing 787s.
"This order is in line with Ethiopian Airlines' growth strategy," said Ethiopian Airlines chief executive Mesfin Tasew, announcing the fresh orders at the Dubai air show today. "This is just the first phase, we expect to do another round of fleet [orders] in the coming years."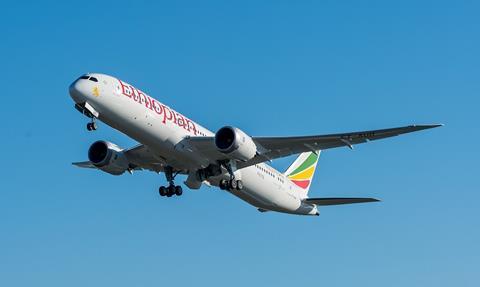 Notably the deal marks its first follow-up order for the Max jets. "The accident of the Max that happened four years ago was a very sad accident, it has left a big scar in our memory and we always feel sad for the victims of that accident," Tasew says.
"We believe, and we have checked and confirmed, that the design defect of that aircraft has been fully corrected by Boeing, and we have renewed our confidence in that aircraft. We decided to order more aircraft because we have seen the capabilities of that aircraft and we are convinced that aircraft has no more safety concerns."
Deliveries of the new aircraft will begin in 2026 and continue through until 2030, but Ethiopian aims to bridge the gap before then with leased aircraft.
"Today we have 25 airplanes on order – 21 from Boeing and four from Airbus – to be delivered in the coming two years. We wanted to add more aircraft in the coming seven years, but the delivery of these aircraft will extend to 2030 because the manufacturers are fully booked and we wouldn't get earlier deliveries.
"So our plan is to bridge the immediate requirement with more leases of 787s and the Max," he says.